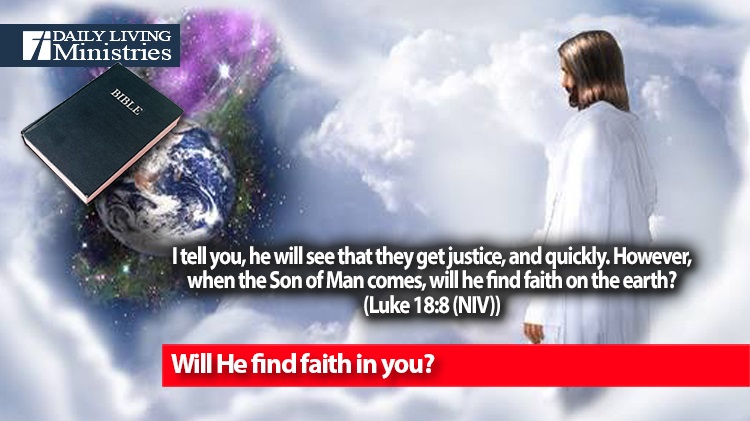 Be Still . . .
Devotionals for Daily Living ©
I tell you, he will see that they get justice, and quickly. However, when the Son of Man comes, will he find faith on the earth?
(Luke 18:8 (NIV))
As the church, we cling to the first half of this passage. We pray for God's justice to come and for His righteousness to prevail, but we fail to pay any attention to the next sentence.
Why is that?
What makes us ignore this question?
This passage is taken from the parable of the widow and her persistent pleas with an ungodly judge to give her justice. He eventually relents because she is bothering him, but he doesn't provide justice for the right reasons. He doesn't do it because the widow deserves it. He gives in because he is getting tired of the constant barrage he is receiving from the widow. He wants to be left alone, so he gives in for selfish reasons and gives her the justice that she seeks.
When we ask God to send His judgment on sinners, what is our reason? Are we doing it because we feel a holier than thou attitude? Do we treat the Lord as our personal Savior while forgetting that the ones we are asking for Him to judge are also able to receive the same grace that we profess? If we are the Body of Christ, we are given a commission to share the Gospel with others.
Therefore go and make disciples of all nations, baptizing them in the name of the Father and of the Son and of the Holy Spirit, and teaching them to obey everything I have commanded you.
(Matthew 28:19-20a (NIV))
Thankfully, nowhere do I see a command within these words to condemn sinners. After all, we were all condemned before we accepted Jesus.
Therefore, there is now no condemnation for those who are in Christ Jesus, because through Christ Jesus the law of the Spirit who gives life has set you free from the law of sin and death.
(Romans 8:1-2 (NIV))
Is this why the question is asked if the Son of Man will find faith on the earth? Are we praying for justice without praying for a change of heart? Are we praying for condemnation without offering grace? Are we praying for selfish reasons? If so, we need to have the faith to pray for God's Will in the situations and ask for hearts to be turned so that judgment and justice turn into grace and mercy!
Will He find faith in you?
Copyright 1998 – 2021 Dennis J. Smock
Daily Living Ministries, Inc.
http://www.dailylivingministries.org
Support Daily Living Ministries
Subscribe to daily email delivery
Visit us on facebook