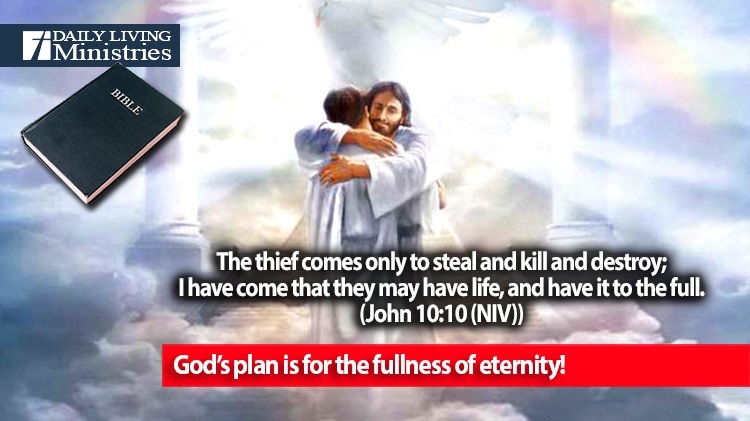 Be Still . . .
Devotionals for Daily Living ©
The thief comes only to steal and kill and destroy; I have come that they may have life, and have it to the full.
(John 10:10 (NIV))
What do you think it means to have life to the full?
That is a question that has caused so much confusion among believers. Too many think that it simply means that we are to have a blessed life while on this earth, but I have my doubts about this interpretation.
"I have told you these things, so that in me you may have peace. In this world you will have trouble. But take heart! I have overcome the world."
(John 16:33 (NIV))
Am I missing something, but to me a life to the full does not mean that we will have troubles. Even if we keep our eyes focused on Jesus, Jesus tells us that we will have troubles? I am not saying that the fullness of our lives while on earth will be limited, for we will be focused on Jesus, but I honestly feel that we are missing something when we talk about having life to the full, and it is all a matter of perspective.
Human nature looks upon our existence as a physical being with a potential eternal soul. The spiritual nature looks upon our existence as an eternal being with a temporary body.
Let's take a look at the Garden of Eden. Nowhere before we are told of the fall from grace does it mention that we, as God's creation, were not to be eternal beings walking with God in all things that we do. It was our sin, our fall from grace, that changed our perspective. After the fall, Adam and Eve and all of humanity since then have seen themselves as physical beings. We no longer grasped the concept that we were supposed to walk with God for all eternity.
for all have sinned and fall short of the glory of God,
(Romans 3:23 (NIV))
For the wages of sin is death, but the gift of God is eternal life in Christ Jesus our Lord.
(Romans 6:23 (NIV))
Before the fall, we were destined to have eternal life. That, I do believe, is the life to the full that we were all supposed to have until sin entered the picture. This life to the full was cut short, it was destroyed by the thief. He destroyed our relationship with our Father and he killed our eternal souls through his lies. Jesus came to restore what had been stolen. He came to bring new life to what had been killed. He came to repair what had been destroyed. All of this was done so that we could once again have eternal life. He came to return us to the Father's original plan where we would have life to the full in His presence!
Does this change your perspective?
God's plan is for the fullness of eternity!
Copyright 1998 – 2023 Dennis J. Smock
Daily Living Ministries, Inc.
https://www.dailylivingministries.org
Support Daily Living Ministries
Subscribe to daily email delivery
Visit us on facebook