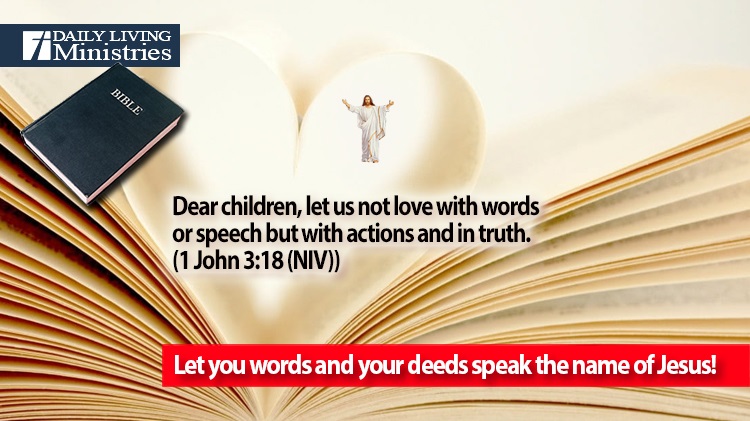 Be Still . . .
Devotionals for Daily Living ©
Dear children, let us not love with words or speech but with actions and in truth.
(1 John 3:18 (NIV))
How much truth do you place in words?
I am sure that there are some people whom you trust to do what they say that they will do, and then there are others whom you know that their word is not worth anything.
What was it that made you learn that you could trust certain people?
Chances are that they earned that trust through their actions. They followed through on what they said that they would do. Perhaps they never even actually said anything. They just simply proved their heart by always being there for you. In essence, talk is cheap. I have known people who can look you in the eye, lie, and make you believe that what they say is true in that moment.
And, then the moment changes!
The truth comes out and you realize that the words that sounded so eloquent and convincing were not spoken in true love.
They were spoken in deceit!
Is that how the world sees people who profess a faith in Jesus? Does the world see us as spouting deceptive words while doing the exact opposite of what we say. In other words, does the world see believers as hypocrites? I think this is the motive behind the words attributed to St. Francis of Assisi. These words mean that we are to love with our actions. We are to share the Gospel through our actions so that the world sees that there is something different about us.
Preach always. When necessary, use words.
(St. Francis of Assisi)
Then, when someone recognizes the difference, tell them why you are different. Tell them about Jesus. Share the Gospel by telling them how Jesus has made a difference in your life. And, one thing that we must always strive for.
Let you words and your deeds speak the name of Jesus!
Copyright 1998 – 2023 Dennis J. Smock
Daily Living Ministries, Inc.
https://www.dailylivingministries.org
Support Daily Living Ministries
Subscribe to daily email delivery
Visit us on facebook