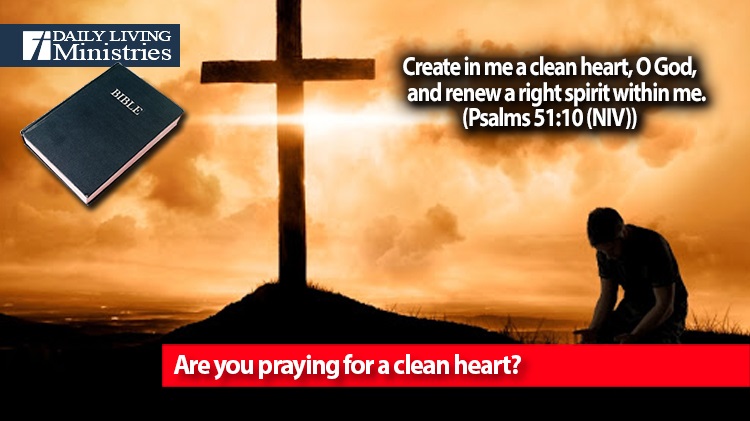 Be Still . . .
Devotionals for Daily Living ©
Create in me a clean heart, O God,
      and renew a right spirit within me.
(Psalms 51:10 (NIV))
Do you find yourself praying this more often in the last few years?
I realize that this could sound like a trick question, but I promise that it is not.
As believers, we should continually pray this. I find myself needing to pray it as I watch the current state of this world. It is human nature to want to go on the offensive when we see things that aren't right. Our own nation was founded by men and women who did just that. They felt emboldened to the point where they drafted a document that said enough was enough. They went to war and they laid down their lives to do what was right. Today, I find myself in a predicament. Our founding fathers were fighting against tyranny. We are facing a different adversary and many times it is family members, friends and people we work with. The struggle is spiritual and the struggle is real. We must remember that those who are currently against us are also part of God's creation and that He loves them.
We must never look at these individuals as an enemy not worth saving!
Have you ever been guilty of this? Are you guilty of this at this very moment? What would have happened if the person who lead you to Jesus had the very same type of thoughts about you?
Think about that!
This is why we must pray for God to create a clean heart in us and to renew a right spirit within us. We can't demonstrate the love and redemption that God has freely given if we cannot, if we will not, show that love to those who need it most. With that in mind, I have a homework assignment for you. The next time that you encounter someone who is against you, pause and pray for God to give you a clean heart so that you will see that person through His eyes. Pray that God will renew a right spirit within you so that you will love that person simply because He loves them.
You will find that your outlook on the world will change. You will also grow closer to the Lord because you will understand just how great His love truly is.
Are you praying for a clean heart?
Copyright 1998 – 2022 Dennis J. Smock
Daily Living Ministries, Inc.
http://www.dailylivingministries.org
Support Daily Living Ministries
Subscribe to daily email delivery
Visit us on facebook