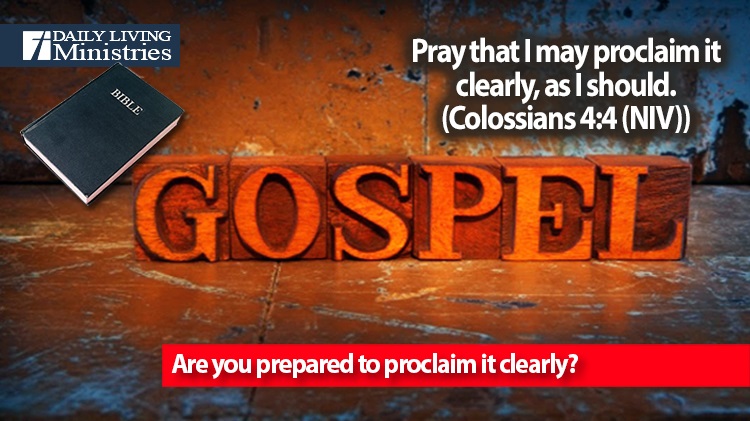 Be Still . . .
Devotionals for Daily Living ©
Pray that I may proclaim it clearly, as I should.
(Colossians 4:4 (NIV))
When Paul wrote this sentence, it was part of a bigger communication that he sent while he was literally in prison. There is some variation on the understanding of the exact details of his imprisonment, but everyone agrees that it was because he was preaching the Gospel of Jesus Christ. He was arrested in Jerusalem, but because he had earned a Roman citizenship, he appealed to Caesar and was sent to Rome. This lead to his imprisonment.
In essence, Paul was in prison for proclaiming the Gospel of Jesus Christ. Even in these circumstances he continued to preach. These few words even show that he was asking for prayer for his efforts to continue in proclaiming the Gospel. To put it simply, he was praying and asking for prayer to be able to continue doing the exact thing that got him put in prison to begin with!
Could we have the courage and faith to do this?
Could we stand firm in our faith even though it was our faith that got us into trouble with the earthly authorities?
There are many variations on the following words, but this should be the desire of everyone who professes a faith in Jesus as their personal Lord and Savior.
I would rather stand with God and be judged by the world, than stand with the world and be judged by God.
Paul wasn't afraid to stand with God and proclaim the Gospel. He was willing to be judged by the world for his obedience. Are you?
Are you prepared to proclaim it clearly?
Copyright 1998 – 2021 Dennis J. Smock
Daily Living Ministries, Inc.
http://www.dailylivingministries.org
Support Daily Living Ministries
Subscribe to daily email delivery
Visit us on facebook