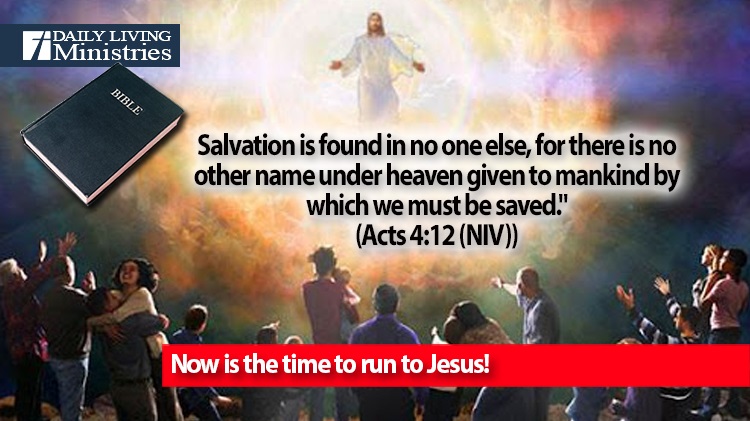 Be Still . . .
Devotionals for Daily Living ©
Salvation is found in no one else, for there is no other name under heaven given to mankind by which we must be saved."
(Acts 4:12 (NIV))
No other name but Jesus!
Do you know anyone who has tried to replace Jesus with someone else? Perhaps I should ask with something else, after all, many of the things that humanity looks to as having the power to protect and to save them are not people, but things. Money and power are just a few of these things that come to mind.
So, what's in a name?
You've heard the old saying that a rose by any other name would smell as sweet, but it still possesses all of the qualities of a rose at the end of the day. Its very essence is and will always be that of a rose. In essence, what I am getting at is that we only have one person in all of human history who has the power to save. At the end of the day, His name will still be Jesus. His power and authority will still be that of the only begotten Son of God. Each language has a different way of saying His name, but each name references the very same Lord and Savior. There is no other. He is just as sweet!
Sadly, too many people look to anyone and anything else to save them. For them, the results will be the same as for those who rejected Him when He walked the earth.
Jesus is
"'the stone you builders rejected,
which has become the cornerstone.'
(Acts 4:11 (NIV))
Now is the time to turn to Jesus. Do not reject the salvation that is found in no one else. No one knows what tomorrow may bring. In fact, it is possible that either you or I will not live to see tomorrow. Do you know where you will be if that were to happen? Does that thought haunt you? Do you want to do something now to guarantee a different eternal outcome? It is as easy as ABC.
A is for admit that you are a sinner in need of a savior.
B is for believe in your heart that Jesus Christ died for your sins, was buried, and that God raised Him from the dead.
C is for call upon the name of the Lord Jesus as your Lord and Savior!
Now is the time to run to Jesus!
Copyright 1998 – 2022 Dennis J. Smock
Daily Living Ministries, Inc.
http://www.dailylivingministries.org
Support Daily Living Ministries
Subscribe to daily email delivery
Visit us on facebook