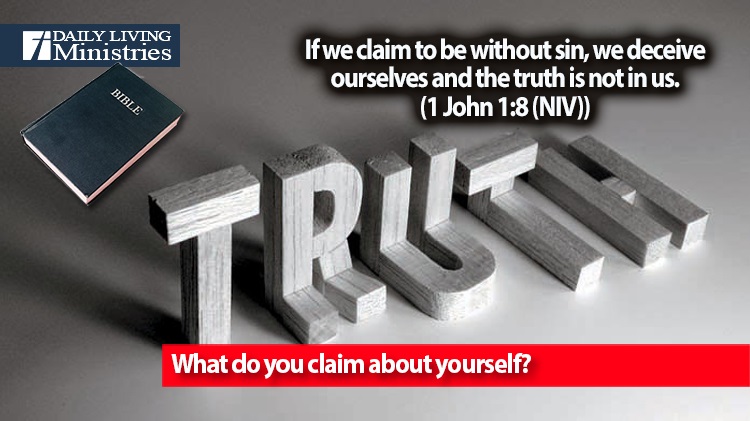 Be Still . . .
Devotionals for Daily Living ©
If we claim to be without sin, we deceive ourselves and the truth is not in us.
(1 John 1:8 (NIV))
Do you think that you are a good person?
Have you bought into the lie of the enemy that we are basically good?
Even Jesus did not consider Himself to be good when He walked this earth.
"Why do you call me good?" Jesus answered. "No one is good—except God alone."
(Mark 10:18 (NIV))
To be honest with you, this one has me a little perplexed.
Even if you look upon Jesus as God with us, He was fully human. Did He say this because of this human side that theoretically could sin, or did He say this because He had not completed what He came to do and had not been glorified yet? Perhaps it was for the same reason that He often told people whom He healed to not tell anyone. Perhaps it was because it was not part of the plan for Jesus to be glorified as a man before the appointed time.
One thing to look at during His time on earth is the simple statement of His mission.
For the Son of Man came to seek and to save the lost.
(Luke 19:10 (NIV))
We are all lost because of sin. Not a single one of us is without sin. Not a single one of us is righteous on our own.
All of us have become like one who is unclean, and all our righteous acts are like filthy rags; we all shrivel up like a leaf, and like the wind our sins sweep us away.
(Isaiah 64:6 (NIV))
Take a serious look at your life. Do you now or have you ever thought that you were a good person? Do you make claims that Jesus refused to make?
What do you claim about yourself?
Copyright 1998 – 2021 Dennis J. Smock
Daily Living Ministries, Inc.
http://www.dailylivingministries.org
Support Daily Living Ministries
Subscribe to daily email delivery
Visit us on facebook