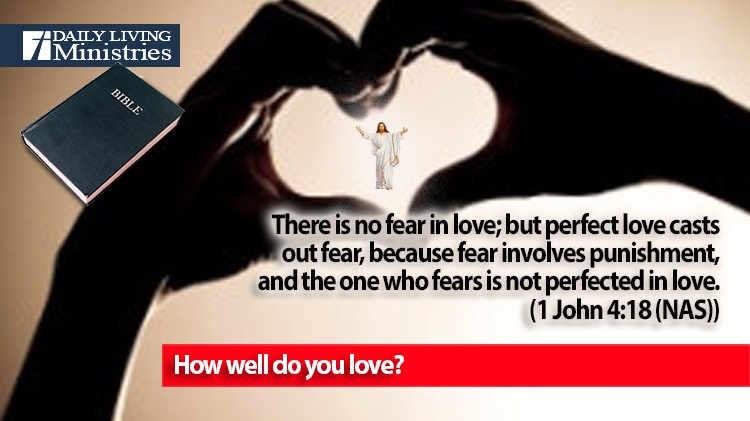 Be Still . . .
Devotionals for Daily Living ©
There is no fear in love; but perfect love casts out fear, because fear involves punishment, and the one who fears is not perfected in love.
(1 John 4:18 (NAS))
It has been said that there is a thin line between fear and hate. If you fear others, then it is because you are close to hating others. This is probably not intentional, but, it is true.
It is through love that hatred is abolished, and through this, fear is abated. You cannot fear someone that you love. They are opposite extremes and diametrically opposed to each other. You either love with no fear, or you fear with hatred as the root.
We are to live with Jesus as the example. Jesus did not know fear or hatred. He had compassion and mercy on all that He encountered. It was their reactions to Him that set the tone of the interactions. No matter what happened, Jesus always responded in love and mercy. If we are to be followers of Jesus, then we, too, should respond to all whom we see with love and mercy. Jesus gave us instructions on what to do.
"A new command I give you: Love one another. As I have loved you, so you must love one another. By this all men will know that you are my disciples, if you love one another."
(John 13:34-35)
How well have you carried out this new commandment? Can others tell that you are a disciple of Jesus?
How well do you love?
Copyright 1998 – 2023 Dennis J. Smock
Daily Living Ministries, Inc.
https://www.dailylivingministries.org
Support Daily Living Ministries
Subscribe to daily email delivery
Visit us on facebook