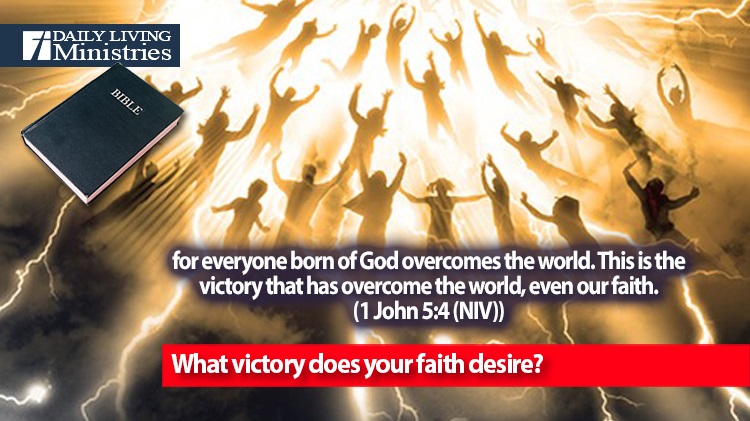 Be Still . . .
Devotionals for Daily Living ©
for everyone born of God overcomes the world. This is the victory that has overcome the world, even our faith.
(1 John 5:4 (NIV))
What type of faith do you possess?
Do you look upon the Bible as God's Word as it relates to what He has done in the past as an example of how you should live your life in the present?
If you answered yes to this question, you are correct, but is it possible that you have overlooked the fact that the Bible unfolds God's plans for humanity from creation to the fall, from perfection to sin, from hopelessness to redemption, from crucifixion to resurrection, from ascension to return, from belief to redemption, and from rejection to glorious return? God's Word is so much more than stories to set examples for your lives. If you read the Bible and come away with an understanding that it is only for improving your life in this world, you are missing out on God's plans for redeeming the fallen and defeating the enemy once and for all. It is true that He sent Jesus as an atoning sacrifice to redeem us from the consequences of sin and death, but He has also unfolded a plan to restore perfection to His creation once and for all!
Are you aware that about twenty percent of the Bible is prophecy?
We read the prophecies that point to Jesus and we often ask ourselves how those people could have been so blind to what was unfolding? How could they have not recognized that Jesus was the Messiah whom they longed for? We see in hindsight that Jesus fulfilled every single prophecy about His first coming. We can look back on that and feel that we have proof that it happened, yet, we fail to see the prophecies that God is unfolding right before our eyes! We have been told what to look for in the time of the end, but how many believers are paying attention to the events in this world? Are we becoming just like the generation that was told what to look for when Jesus came? Are we guilty of being just as blind to what God is unfolding today?
Do you possess a faith to look beyond your personal life and realize that God is still unfolding things according to His purpose right before your eyes?
As believers, we look to Jesus as a guarantee of salvation from an eternity in hell. But, do you look to Jesus as the King of kings and Lord of lords who is doing the will of the Father? Do you have the faith to realize that God's plans are unfolding and rejoice as things unfold in anticipation of the final outcome? Do you long to be in His presence or do you long to return to the worldly normal?
What victory does your faith desire?
Copyright 1998 – 2021 Dennis J. Smock
Daily Living Ministries, Inc.
http://www.dailylivingministries.org
Support Daily Living Ministries
Subscribe to daily email delivery
Visit us on facebook