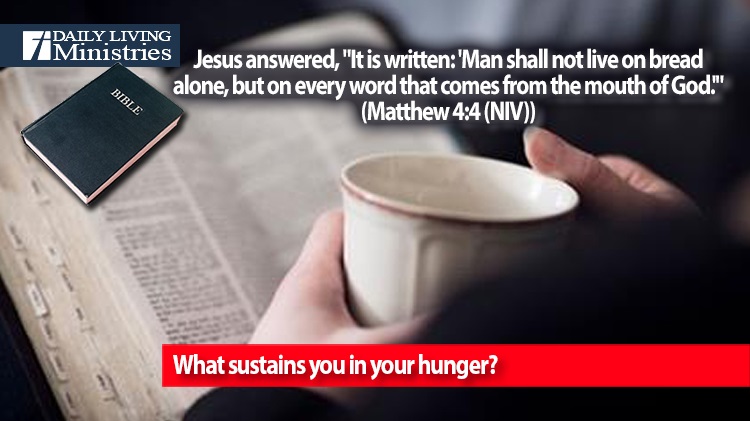 Be Still . . .
Devotionals for Daily Living ©
Jesus answered, "It is written: 'Man shall not live on bread alone, but on every word that comes from the mouth of God.'"
(Matthew 4:4 (NIV))
People are hungry!
People are starving for the grace and truth that can only be found in God, and the sad part is that they don't realize it. They try to satisfy their hunger with anything and everything that catches their attention, while ignoring the only thing that can truly satisfy their longings. It is said that we have a God-shaped hole within us and I honestly believe that to be true. We try to fill this hole, this void, with anything and with everything that we can possibly imagine. Some turn to alcohol. Some turn to drugs. Others turn to money, and still others will turn to the lusts of the flesh. Nothing that this world can offer can fill this void. Nothing that this world can offer can satisfy this hunger.
Jesus came into this world to save us from our sins. He came into this world to satisfy our hunger.
Then Jesus declared, "I am the bread of life. Whoever comes to me will never go hungry, and whoever believes in me will never be thirsty.
(John 6:35 (NIV))
Jesus satisfies our hunger. Jesus satisfies our soul. Jesus fills the God-shaped hole within each of us.
In the beginning was the Word, and the Word was with God, and the Word was God. He was with God in the beginning. Through him all things were made; without him nothing was made that has been made. In him was life, and that life was the light of all mankind. The light shines in the darkness, and the darkness has not overcome it.
(John 1:1-5 (NIV))
The Word became flesh and made his dwelling among us
(John 1:14a (NIV))
I love how God does things. Jesus is the Bread of Life. Jesus was born in Bethlehem, which means house of bread. Jesus, the Bread of Life, was born in the house of bread. This sheds light on the Passover Seder when Jesus broke the bread and told His disciples to take and eat, for it is His body. It can't get any clearer than that. Jesus came to seek and to save the lost, and by doing this, He satisfies the hunger within us.
What sustains you in your hunger?
Copyright 1998 – 2022 Dennis J. Smock
Daily Living Ministries, Inc.
http://www.dailylivingministries.org
Support Daily Living Ministries
Subscribe to daily email delivery
Visit us on facebook