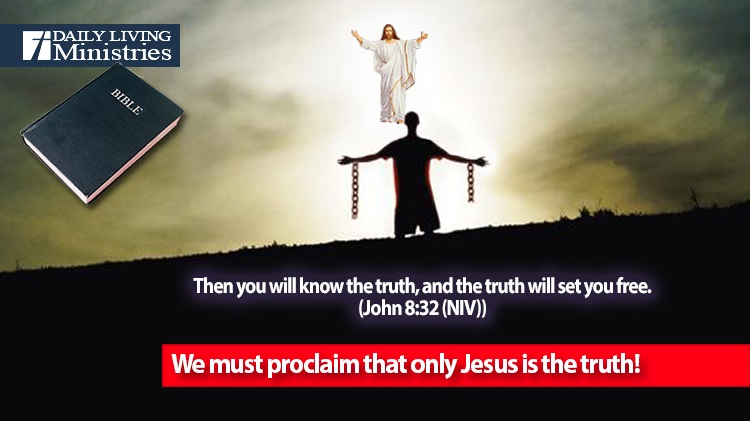 Be Still . . .
Devotionals for Daily Living ©
Then you will know the truth, and the truth will set you free.
(John 8:32 (NIV))
If you truly stop to think about this passage, it completely destroys the concept that truth is relative. How can anything that is relative, that constantly changes, have the power to set you free. If truth is relative, then the one who espouses a relative truth is not constant. They change with the seasons. They change with the winds. They change with whatever crowd and whatever lie is most popular at the moment. What they say is their truth one day will not be their truth the next day. In fact, all that they proclaim is a lie. The last that I looked, a lie cannot set you free. In fact, all lies come from satan who is the father of all lies. His lies didn't get him set free. His lies led to him being cast out of heaven and will lead to being cast into the lake of fire.
Does this sound like any "truth" that you want to be associated with?
Does that sound like freedom to you?
We only need to turn to the words of Jesus to find the real truth. We only need to turn to Jesus to find a truth that is not relative and constantly changing. We only need to turn to Jesus to find the absolute truth that can only come from God!
Jesus answered, "I am the way and the truth and the life. No one comes to the Father except through me.
(John 14:6 (NIV))
Too many people simply do not understand or they choose to reject what this means. These are the people who proclaim that there are many ways to God and that Jesus is only one of those ways. If they had actually read and understood this passage, along with many others, they would not be able to make such a claim. They do not see the God of the Bible. They see a god of their own personal designs. They have bought into the lie that God is relative and that He is whatever you wish Him to be!
We, as the Body of Christ, know that only Jesus, as the only begotten Son of God, is the truth. With this concept firmly rooted in Scripture, let's paraphrase John 8:32 with a simple word replacement.
Then you will know Jesus, and Jesus will set you free.
So if the Son sets you free, you will be free indeed.
(John 8:36 (NIV))
With all that is going on in the world, we must pray for people to come to the realization that there is only one truth and His name is Jesus! We must do all that we can to show that truth is not relative and that those who profess a faith in Jesus as their personal Lord and Savior know the truth and that they have indeed been set free!
We must proclaim that only Jesus is the truth!
Copyright 1998 – 2021 Dennis J. Smock
Daily Living Ministries, Inc.
http://www.dailylivingministries.org
Support Daily Living Ministries
Subscribe to daily email delivery
Visit us on facebook