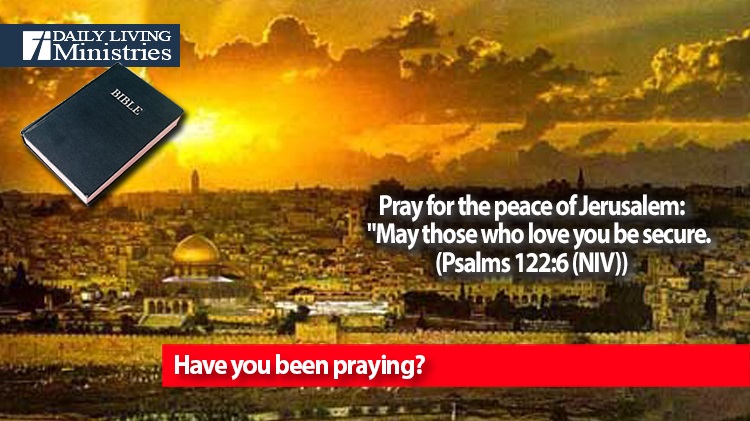 Be Still . . .
Devotionals for Daily Living ©
Pray for the peace of Jerusalem:
     "May those who love you be secure.
(Psalms 122:6 (NIV))
Do you love Jesus?
Do you love what Jesus loves?
What do you think of Jerusalem? Does it match what the Lord has said?
but I have chosen Jerusalem that my name may be there,
(2 Chronicles 6:6a (NIV))
Even when the people rebelled, He still looked on in love.
"O Jerusalem, Jerusalem, the city that kills the prophets and stones those who are sent to it! How often would I have gathered your children together as a hen gathers her brood under her wings, and you were not willing!
(Matthew 23:37 (NIV))
Jerusalem is important to God. Jerusalem is crucial to God's plans. Jerusalem, and Israel, were supposed to be the beacon shining God's light to the world. They were chosen to serve this purpose and no matter how many times they rebelled against God, He still has a purpose for Israel and Jerusalem. Many scholars believe that prophetic events that we know as the end times, even though they will impact the whole world, are God's call for Israel to accept their Messiah. Everything that happens during the end times are focused in and on Jerusalem and Israel. We know that they will be attacked and miraculously saved. We know that the antichrist will allow the temple to be rebuilt in Jerusalem. We know that the antichrist will go into the temple and declare himself to be God. We know that all nations of the world will turn on Israel, and we know that the battle in the valley of Har Megido, otherwise known as Armageddon, will take place in the land of Israel.
There is also one other thing that we must be aware of. God set the land aside for Israel as an inheritance.
for all the land that you see I will give to you and to your offspring forever.
(Genesis 13:15 (NIV))
I realize that they did not possess the land for centuries, but it still belongs to the offspring of Israel. If you find this difficult to comprehend, all that we have to do is consider this passage and how Israel became a nation again after almost two thousand years. This basically transpired with the stroke of a pen!
Who has ever heard of such things?
     Who has ever seen things like this?
Can a country be born in a day
     or a nation be brought forth in a moment?
Yet no sooner is Zion in labor
     than she gives birth to her children.
(Isaiah 66:8 (NIV))
It is clear that the Lord loves Israel and Jerusalem. We know that He has warned against dividing the land since they returned.
I will gather all the nations and bring them down to the Valley of Jehoshaphat. And I will enter into judgment with them there, on behalf of my people and my heritage Israel, because they have scattered them among the nations and have divided up my land,
(Joel 3:2 (NIV))
He does not like anyone to divide what He has given. In fact, many of the natural disasters and attacks that have happened in this country have happened on the very same days that plans we presented or agreed to that divided up Israel. We have to stop trying to take what God has declared as His and giving it away. Why are we, as humanity, so arrogant that we think that we can do whatever we want?
We must pray for the peace of Jerusalem!
Have you been praying?
Copyright 1998 – 2022 Dennis J. Smock
Daily Living Ministries, Inc.
https://www.dailylivingministries.org
Support Daily Living Ministries
Subscribe to daily email delivery
Visit us on facebook