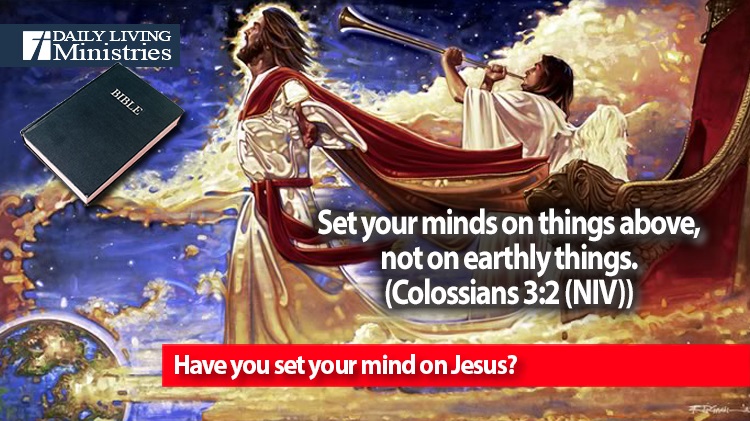 Be Still . . .
Devotionals for Daily Living ©
Set your minds on things above, not on earthly things.
(Colossians 3:2 (NIV))
Unlike any other time in human history, now is the time to look up!
Do the things of this world have you worried? Look up!
No matter what the news may say and no matter what they do not say, we have a mighty God who is in control. We have a mighty Savior who, in the eyes of the world, has done the unthinkable. He willingly died to save us from our sins. All that we have to do is believe in Him! We have the promises that God has given, and they are many! Not only do we have the promises that foretold of Jesus, we also have the promises that foretell of His return.
For no matter how many promises God has made, they are "Yes" in Christ. And so through him the "Amen" is spoken by us to the glory of God.
(2 Corinthians 1:20 (NIV))
Think about that for a moment. If God cannot associate with sin, then we know that He is not capable of committing a sin. He is not capable of telling a lie. Because He is not capable of lying, we know that every single word that proceeds from His mouth is truth. In other words, if He said it, it WILL happen just as He said. The sad thing is that we, as sinful, fallen humanity have a hard time comprehending that there is someone who is always truthful no matter what the situation. Even those who always try to tell the truth will find themselves slipping up and twisting things unintentionally. In other words, we lie even when we don't want to!
We must focus on the perfect image of God the Father, Jesus the Son, and the Holy Spirit. Only when we keep our focus in this direction are we capable of discerning the truth from the lies of the enemy, and right now, the enemy is on a rampage! Every single day I learn more and more about the things that are unfolding in this world. I learn of things that, if I didn't keep my eyes focused on Jesus, would scare me to death. Troubles are increasing exponentially. I also learn of things that have me fascinated because God is unfolding things just as He foretold. The troubles in this world may be increasing exponentially, but we must take heart, for the things of God are falling into place exponentially as well. Things are happening so fast that many people are saying that something major is going to happen by the end of this month. I don't claim to be a prophet, nor do I claim to know the hour or the day, but I do recognize the season that we are in. I do recognize the need for repentance. I do recognize the need to set our minds on things above, for they are eternal. The things of this world are fleeting and can change in the twinkling of an eye.
No matter what may happen in this world, we must look to Jesus!
No matter what the enemy may do, we must remember that we have a risen Savior who has overcome the enemy.
No matter what may happen in this world, we know who wins.
Have you set your mind on the winner?
Have you set your mind on Jesus?
Copyright 1998 – 2022 Dennis J. Smock
Daily Living Ministries, Inc.
https://www.dailylivingministries.org
Support Daily Living Ministries
Subscribe to daily email delivery
Visit us on facebook