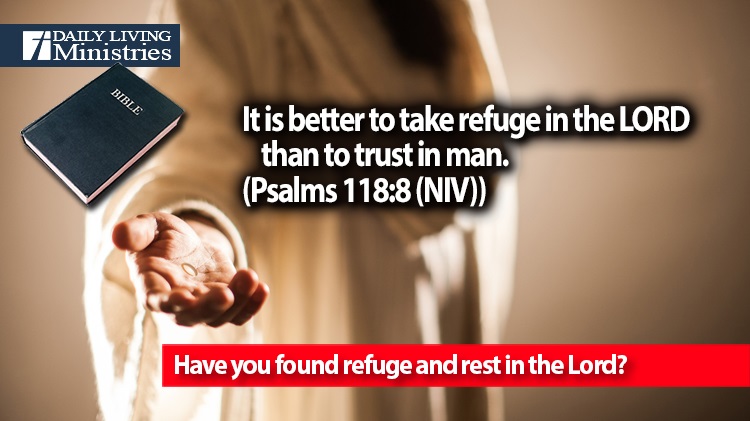 Be Still . . .
Devotionals for Daily Living ©
It is better to take refuge in the LORD
     than to trust in man.
(Psalms 118:8 (NIV))
Whom do you trust?
If you had the opportunity to choose between someone who would let you down or someone who would always be there for you, where would you place your trust? I know who I would go with, for certainty is a nice thing to have. Certainty that you will always be able to turn to someone whom you can trust. He will never leave you or disappoint you. He will always be there for you.
Unfortunately, there is no single human alive who can ever fill that promise. Even your mother will let you down at several times in your life. She will not mean to, but, it is only human nature. If this is the case, then why do so many people place their trust in other people or in man-made institutions? Why do we continually think that we will find what we seek, what we truly need, in humanity?
Only God is worthy of our trust and only He is a sound place of refuge. We can run to Him any time and He will be there for us. He is always the same. He is never changing. He is truth and righteousness personified. He cannot fail, for it is not in His nature.
He only has one condition for us to find this eternal refuge and rest. Simply place your faith in His Son, Jesus Christ, and you will know refuge and the peace that passes understanding.
When you look at the world, are you anxious and stressed? When you look at the world, are your tormented and fearful? The Lord is our only place of refuge. He is our only place of trust. He is our only place of true rest no matter what the world may send our way.
"Come to me, all you who are weary and burdened, and I will give you rest.
(Matthew 11:28 (NIV))
Have you found refuge and rest in the Lord?
Copyright 1998 – 2023 Dennis J. Smock
Daily Living Ministries, Inc.
https://www.dailylivingministries.org
Support Daily Living Ministries
Subscribe to daily email delivery
Visit us on facebook