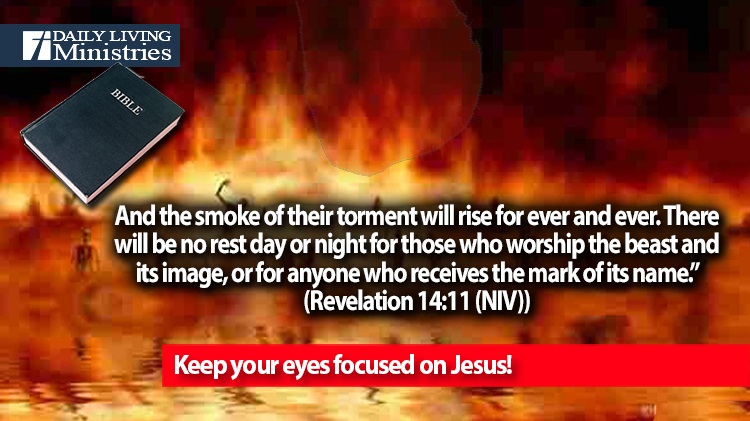 Be Still . . .
Devotionals for Daily Living ©
And the smoke of their torment will rise for ever and ever. There will be no rest day or night for those who worship the beast and its image, or for anyone who receives the mark of its name."
(Revelation 14:11 (NIV))
I don't know about you, but this does not sound very pleasant. It is not something that I would desire, nor can I even imagine anyone wanting this for themselves, their friends or their family. Still, because people reject Jesus as their personal Lord and Savior, they will suffer this fate. The sad thing is that no one has to suffer the eternal consequences of their sins.
For God so loved the world that he gave his one and only Son, that whoever believes in him shall not perish but have eternal life. For God did not send his Son into the world to condemn the world, but to save the world through him. Whoever believes in him is not condemned, but whoever does not believe stands condemned already because they have not believed in the name of God's one and only Son.
(John 3:16-18 (NIV))
If you have been following these devotionals for very long, you have probably noticed a shift from living according to God's Word to a more urgent nature. There is something unsettling in my spirit and the events of the world support what I, and many others, are sensing. I have numerous trustworthy sources that I read and watch every day. What I am seeing is not being reported, and it is amazing. If I did not know Jesus as my personal Lord and Savior, I would be completely and utterly scared of what I see. It is my desire to "fly under the radar" so that my posts are not blocked on social media. For this reason, I will not provide sources for these comments, but rest assured that the comments are legitimate. With this in mind, I want to present some of the things that I have recently read or heard.
The culling of humanity is about to accelerate taking many children and young adults, as the doctors, politicians and preachers remain silent.
History began with humans inventing gods and will end when humans become gods.
The resurrection of Jesus is fake news.
Humans are now hackable animals no longer subject to the intelligent design of some fictional god above the clouds but our intelligent design.
The idea of humans having free will is over. Today, we have the technology to hack human beings on a massive scale.
You will own nothing and be happy.
Do you believe the Bible? Do you believe in the prophecies that foretold of Jesus' first appearance on this earth? If you say that you believe the Bible, then you have to believe the prophecies that it contains. It is said that somewhere between 20-30% is prophecy. God's track record is perfect when you look at what has been fulfilled so far. Why do we even venture to think that what has not been fulfilled will be any different?
God created us to have free will. Once we take the mark, based on the comments above, our free will is gone forever! There is no turning back. If the few comments that I have included do not unsettle your spirit, then perhaps you need to take a long, hard look at your priorities. You should also take a long, hard look at the 20-30% of the Bible that you have ignored before it is too late. Just for reference, just in case you did not know, digital tracking technology is already in place! If you don't believe me, take a look at the face recognition on your phone. Do you honestly believe your face scan stays on your phone? Do a search for something and then log into one of your social media accounts. I am positive you will immediately see ads for what you just searched for. If this can be done, what will this technology be used for in the hands of the antichrist?
Keep your eyes open to the world. We are told to watch and recognize the signs.
There is even one more important thing that we are told to do.
Keep your eyes focused on Jesus!
Copyright 1998 – 2022 Dennis J. Smock
Daily Living Ministries, Inc.
https://www.dailylivingministries.org
Support Daily Living Ministries
Subscribe to daily email delivery
Visit us on facebook