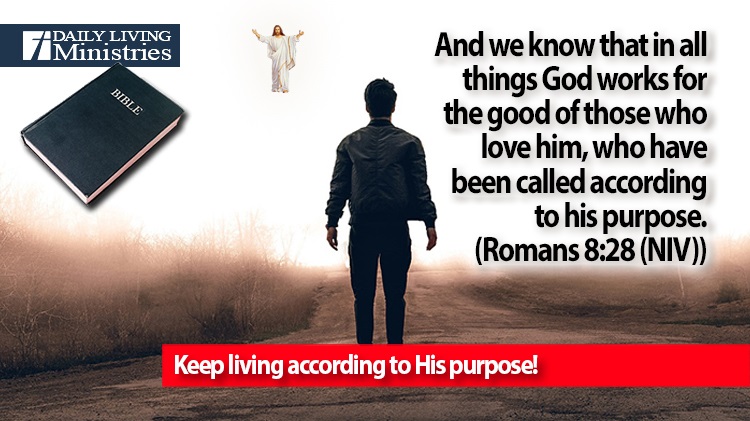 Be Still . . .
Devotionals for Daily Living ©
And we know that in all things God works for the good of those who love him, who have been called according to his purpose.
(Romans 8:28 (NIV))
Have you ever truly stopped to take a serious look at your life?
For most people, this is not something that they ever consider doing. They develop a plan for what they want and never stop to think about whether their life is being lived based on their desires or if it is being lived according to God's calling. To be honest with you, they never even stop to consider if they truly love the Lord or if they are only giving lip service as an afterthought.
With that in mind, I have some very serious questions for you.
Do you love God?
Have you been called according to his purpose?
Are you living your life according to that calling?
If those questions make you feel uneasy, then I have done what I have set out to do. I have made you take an inward look at your faith and the answers that you have arrived upon are being used to tug at your heart. Unless you are completely comfortable with your salvation, you will have doubts and concerns. Unless your walk of faith leads you hand in hand with Jesus, then you will have doubts and concerns.
Are all things working out for your good or is your life a complete shambles?
I am not saying that following Jesus will allow you to live a perfect, stress free life. I am saying that God will walk with you through the troubles and lead you out by His grace if you will only keep your eyes focused on Jesus. He has done this many times through the Old and New Testaments. How many times did Joseph face hardship before God placed him second in command over all of Egypt? I could recount several examples, but suffice it to say, God will lead you through the tough times to something that is good in His eyes. So, when you are feeling helpless, hopeless and lost, remember that you are not alone.
Keep living according to His purpose!
Copyright 1998 – 2023 Dennis J. Smock
Daily Living Ministries, Inc.
https://www.dailylivingministries.org
Support Daily Living Ministries
Subscribe to daily email delivery
Visit us on facebook