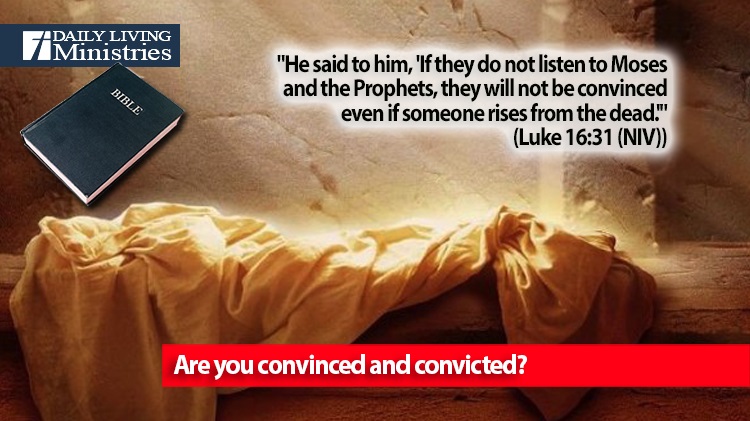 Be Still . . .
Devotionals for Daily Living ©
"He said to him, 'If they do not listen to Moses and the Prophets, they will not be convinced even if someone rises from the dead.'"
(Luke 16:31 (NIV))
Have you ever noticed this passage in the story about the rich man and Lazarus?
I have often wondered if Jesus was predicting how the majority of the Jews would respond to His resurrection. He very bluntly spoke of the mindset that was far too prevalent where the people ignored the laws of Moses and the calls of the prophets for the people to repent. His next words basically put the nation of Israel on warning that something greater was coming and that they would ignore that as well.
Why do people ask for help when they had a means of help all of the time that they were digging their own graves?
The human race is a strange creation. I don't know how Adam and Eve were before the fall from grace. All that I know is that the sinful, fallen human condition often cannot see the proverbial forest for the trees. We cannot see that what we need is literally right in front of us. We are too focused on the things of this world. We are like the dog in the animated movie that tries to be focused but is sidetracked by every squirrel that it sees. Each of us has our own little "squirrels" that keep us sidetracked. For the rich man in this story from Luke, it was his riches and his comfort.
What keeps you sidetracked?
What keeps you away from following the Lord and doing everything that He commands?
As believers, we like to think that if we lived when Jesus walked the earth, we would have been different from all of the other members of that society. We don't have Jesus physically walking among us, but we do have His teachings. We do have God's Word. To quote what Jesus said in this passage from Luke, we have Moses and the Prophets.
AND, . . .
We have a resurrected Savior!
Jesus rose from the dead and so many people ignore this miraculous event. Even this does not convince people to repent.
Don't be so engrossed in the world that you miss what is right before your very eyes! It is time for the power of the Gospel to convince and convict you!
Are you convinced and convicted?
Copyright 1998 – 2023 Dennis J. Smock
Daily Living Ministries, Inc.
https://www.dailylivingministries.org
Support Daily Living Ministries
Subscribe to daily email delivery
Visit us on facebook