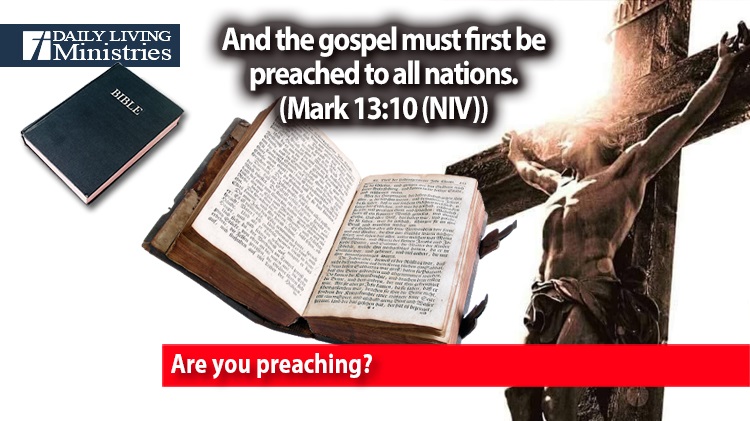 Be Still . . .
Devotionals for Daily Living ©
And the gospel must first be preached to all nations.
(Mark 13:10 (NIV))
As believers, we long for this to happen, but are we truly ready for the rest of the things that will come with this?
When you hear of wars and rumors of wars, do not be alarmed. Such things must happen, but the end is still to come. Nation will rise against nation, and kingdom against kingdom. There will be earthquakes in various places, and famines. These are the beginning of birth pains.
"You must be on your guard. You will be handed over to the local councils and flogged in the synagogues. On account of me you will stand before governors and kings as witnesses to them. And the gospel must first be preached to all nations. Whenever you are arrested and brought to trial, do not worry beforehand about what to say. Just say whatever is given you at the time, for it is not you speaking, but the Holy Spirit.
"Brother will betray brother to death, and a father his child. Children will rebel against their parents and have them put to death. Everyone will hate you because of me, but the one who stands firm to the end will be saved.
(Mark 13:7-13 (NIV))
Did you notice that the part that most people cling to as a condition for the return of Jesus actually falls in the middle of these events. Let me paraphrase it based on what I am understanding. There will be wars and rumors of wars. There will be earthquakes. You will be persecuted and thrown in jail, but you still must preach the gospel to all nations while all of this is happening. You may be betrayed in this world, but don't give up. Stand firm in your faith.
I know that this sounds a lot more hardcore than simply being told to share the Gospel, but is it?
Therefore go and make disciples of all nations, baptizing them in the name of the Father and of the Son and of the Holy Spirit, and teaching them to obey everything I have commanded you. And surely I am with you always, to the very end of the age."
(Matthew 28:19-20 (NIV))
We know that not everyone will accept the truth of the Gospel. In fact, we know that there will come a time when sharing the Gospel will be hazardous to your physical life, but that shouldn't stop us from sharing the truth with those who need to hear it. Many people are seeing this rapidly developing in our society today. What is good is now called evil and what is evil is now called good.
We must be willing to stand firm in our faith and share the Gospel no matter what the enemy may send our way.
Are you preaching?
Copyright 1998 – 2021 Dennis J. Smock
Daily Living Ministries, Inc.
http://www.dailylivingministries.org
Support Daily Living Ministries
Subscribe to daily email delivery
Visit us on facebook