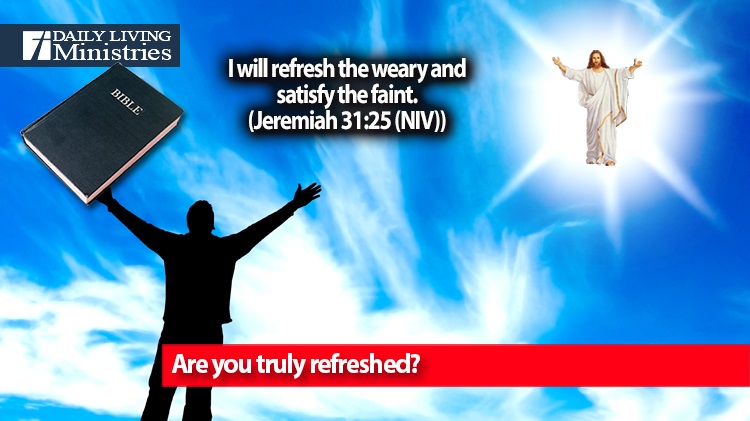 Be Still . . .
Devotionals for Daily Living ©
I will refresh the weary and satisfy the faint.
(Jeremiah 31:25 (NIV))
I realize that these words were given to Jeremiah about Judah and Israel, but if you read them in context, they are a promise to the people who are obedient to the Lord. They are a promise to those who are faithful to the Lord that He will be faithful to them.
In the midst of everything that is going on in the world, have you been faithful?
Have you turned to the Lord for your strength when all around you has been chaos? Have you called upon the name of the Lord and asked for guidance and wisdom no matter what the world has sent your way? Have you persevered in your faith even when the world is calling a faith in Jesus evil and racist? Have you fallen to your knees and asked the Lord to show you His Will so you will know His heart during these trying times? Are you ready to stand firm in your faith in Jesus no matter what the world may say?
There is a saying that is often quoted.
I would rather stand with God and be judged by the world than to stand with the world and be judged by God.
Is this your attitude? Are you willing to make this claim no matter what the world may send your way? Are you willing to stand your ground even when facing physical consequences? Can you assuredly make the same claim as Joshua?
But if serving the Lord seems undesirable to you, then choose for yourselves this day whom you will serve, whether the gods your ancestors served beyond the Euphrates, or the gods of the Amorites, in whose land you are living. But as for me and my household, we will serve the Lord.
(Joshua 24:15 (NIV))
If you make this profession and stand firm, the Lord will give you strength. He will walk with you. He will give you the strength to soar above the world.
but those who hope in the Lord
    will renew their strength.
They will soar on wings like eagles;
    they will run and not grow weary,
    they will walk and not be faint.
(Isaiah 40:31 (NIV))
To put it simply. You will be refreshed.
Are you truly refreshed?
Copyright 1998 – 2021 Dennis J. Smock
Daily Living Ministries, Inc.
http://www.dailylivingministries.org
Support Daily Living Ministries
Subscribe to daily email delivery
Visit us on facebook