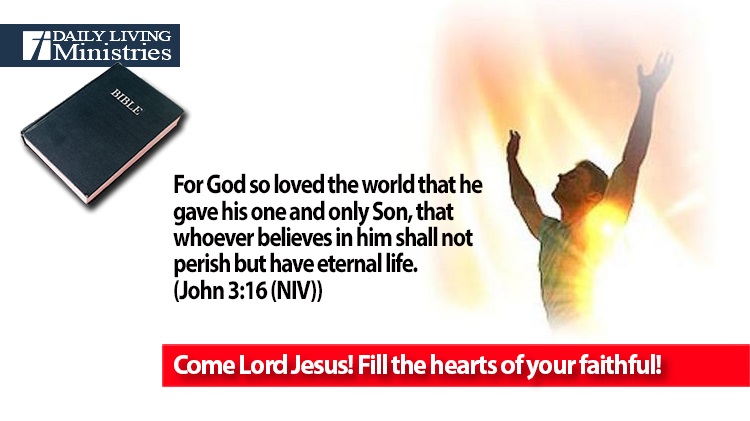 Be Still . . .
Devotionals for Daily Living ©
For God so loved the world that he gave his one and only Son, that whoever believes in him shall not perish but have eternal life.
(John 3:16 (NIV))
Do you truly believe this passage?
What about the following passage?
The thief comes only to steal and kill and destroy; I have come that they may have life, and have it to the full.
(John 10:10 (NIV))
If we profess that we believe, then why do we act as if we don't when we gather together to worship?
Why do we stifle the Holy Spirit and prevent Him from being made manifest in our worship and in our lives?
We are at war with the enemy and we act as if we are safe and secure, yet, we are far from prepared. I believe that the recent events of Holy Spirit filled revival are a calling to put on the full armor of God so that we may stand against the schemes of the enemy. Many people believe that the church will be taken out of the picture, raptured, before things get really bad, but we are not called to sit back and do nothing until that day comes. And, if the interpretations that point to this rapture happening first are incorrect, we must be prepared to stand firm in our faith for we will be involved in warfare with the enemy. We will not be able to stand on our own. We must truly believe in Jesus and we must truly believe that abundant life is only available through our faith in Him!
I love that people are excited about revival, yet, I am saddened that believers are not paying attention to the Scriptures and recognizing that the events that are transpiring in this world are more than we are led to believe. The Euphrates River is almost dry, paving the way for the army from the East. Digital currencies, which can be turned off at the will of the government, are almost upon us. Turkey and Syria are seeing destruction and death like never before from the recent earthquakes. Israel is posed to build a third temple.
Do I need to go on listing things, or have I convinced you that now is the time to stand firm in your faith? Now is the time to put on the full armor of God. Now is the time to pray for His presence to be made manifest in ways that we have never seen before in our lifetime!
Can you confidently and faithfully stand firm in the knowledge that Jesus is Lord?
Come Lord Jesus! Fill the hearts of your faithful!
Copyright 1998 – 2023 Dennis J. Smock
Daily Living Ministries, Inc.
https://www.dailylivingministries.org
Support Daily Living Ministries
Subscribe to daily email delivery
Visit us on facebook