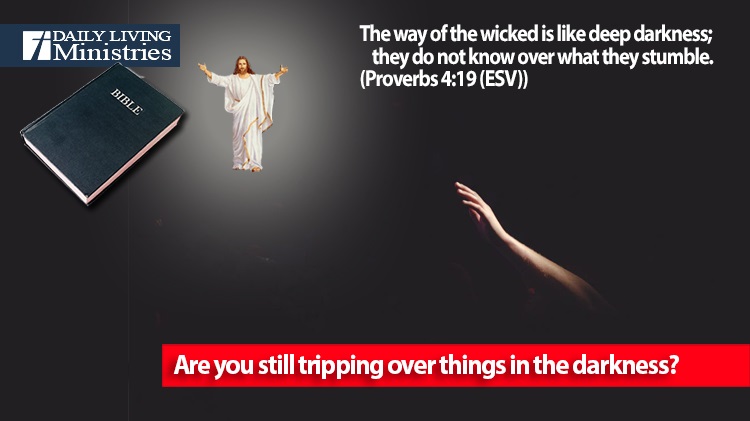 Be Still . . .
Devotionals for Daily Living ©
The way of the wicked is like deep darkness;
     they do not know over what they stumble.
(Proverbs 4:19 (ESV))
Have you ever gotten up in the middle of the night and the power was out?
You probably thought that you could walk through your house without a flashlight or by memory. I have been brave enough to do this a few times. More often than not, I end up tripping over something, or I stub my toe. Usually this happens because I didn't count the number of my steps correctly to get around an object. This is a painful and stressful experience. It is at these moments that you are reminded just how important it is to walk in the light.
Walking in spiritual darkness is even more dangerous than walking in physical darkness. Our sinful, human nature has kept us in the dark for far too long. This darkness hides the dangers of the sinful existence that we all have lived. Each and every single one of us faces the consequences of our sin, for the wages of sin is death. No one can escape that death sentence, for we are not capable of doing anything on our own that will erase the stain of sin from our lives. When you walk in the darkness of sin, you are blind. When you turn to others who are also walking in the darkness of their sin, it is the blind leading the blind. This only results in more pain as you trip, stumble and fall in the darkness of your sin.
Thankfully, God provided a way out. He provided a light in an otherwise dark and dying world.
For God so loved the world that he gave his one and only Son, that whoever believes in him shall not perish but have eternal life. For God did not send his Son into the world to condemn the world, but to save the world through him. Whoever believes in him is not condemned, but whoever does not believe stands condemned already because they have not believed in the name of God's one and only Son. This is the verdict: Light has come into the world, but people loved darkness instead of light because their deeds were evil. Everyone who does evil hates the light, and will not come into the light for fear that their deeds will be exposed. But whoever lives by the truth comes into the light, so that it may be seen plainly that what they have done has been done in the sight of God.
(John 3:16-21 (NIV))
It is so simple to have the light of the world light up your world!
Are you ready to walk in His light? It is as easy as ABC.
A is for admit that you are a sinner in need of a savior.
B is for believe in your heart that Jesus Christ died for your sins, was buried, and that God raised Him from the dead.
C is for call upon the name of the Lord Jesus.
But if we walk in the light, as he is in the light, we have fellowship with one another, and the blood of Jesus, his Son, purifies us from all sin.
(1 John 1:7 (NIV))
Are you still tripping over things in the darkness?
Copyright 1998 – 2023 Dennis J. Smock
Daily Living Ministries, Inc.
https://www.dailylivingministries.org
Support Daily Living Ministries
Subscribe to daily email delivery
Visit us on facebook