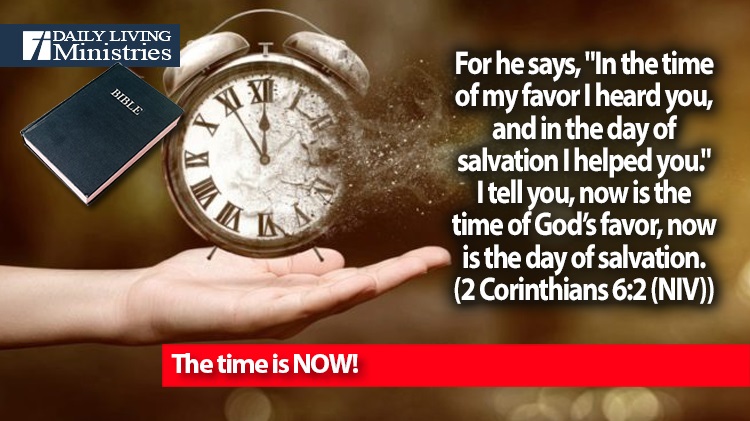 Be Still . . .
Devotionals for Daily Living ©
For he says, "In the time of my favor I heard you, and in the day of salvation I helped you." I tell you, now is the time of God's favor, now is the day of salvation.
(2 Corinthians 6:2 (NIV))
What is your definition of the word "now?"
If you came up with something similar to this very moment in time you would be accurate in your understanding of the word. Think about that in relation to God's favor.
This very moment is the time of God's favor! This very moment in time is the day of salvation!
We are not promised tomorrow. We are not even promised our next breath, yet we live as if we have all of the time in the world. We live as if we can do whatever we want to do for years to come and then at a given point in our lives that we decide, we can accept God's favor, we can accept salvation. What happens if we live our lives ignoring God and our life ends before we planned to accept His favor and His salvation?
There is no time to waste!
If the last few years have taught us anything, we should know that nothing ever goes the way that we think that it should. Just when you think that everything is going the way that you want it to go, it is probably time for your alarm clock to wake you up so that you can face another day in this sinful, fallen world. To be honest with you, even our dreams are not perfect. How often do you wake up in cold sweats from a nightmare? Those nightmares will be nothing when compared to what you face if you don't accept God's favor and salvation.
for all have sinned and fall short of the glory of God,
(Romans 3:23 (NIV))
For the wages of sin is death,
(Romans 6:23a (NIV))
We cling to the dangerous notion that we can take care of our salvation tomorrow, that we can put off death until we face it on our terms.
What if?
Nobody wants to deal with the what if of the wages of sin, but God has a plan. All that we have to do is accept that plan. It is as easy as ABC.
A is for admit that you are a sinner in need of a savior.
B is for believe in your heart that Jesus Christ died for your sins, was buried, and that God raised Him from the dead.
C is for call upon the name of the Lord Jesus.
Doing this leads to the "but God' part of Romans 6:23.
For the wages of sin is death, but the gift of God is eternal life in Christ Jesus our Lord.
(Romans 6:23 (NIV))
The time is NOW!
Copyright 1998 – 2021 Dennis J. Smock
Daily Living Ministries, Inc.
http://www.dailylivingministries.org
Support Daily Living Ministries
Subscribe to daily email delivery
Visit us on facebook