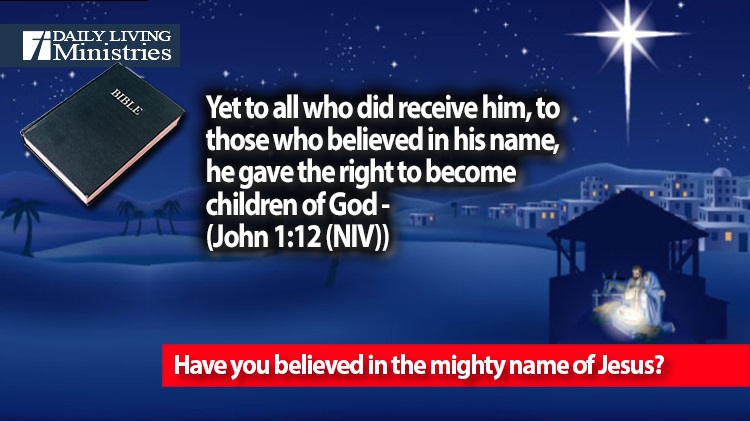 Be Still . . .
Devotionals for Daily Living ©
Yet to all who did receive him, to those who believed in his name, he gave the right to become children of God –
(John 1:12 (NIV))
If you have accepted Jesus as your personal Lord and Savior, which incarnation do you envision as Jesus? Is it the infant in a manger? Is it the young man in the temple? is it the man who turned water into wine? Is it the man who walked on water? Is it the man who raised Lazarus from the dead? Is it the man who went to the cross? Is it the Lord who rose from the grave on the third day? Is it the King of kings and Lord of lords who sits at the right hand of God the Father? Is it the might warrior who will return to defeat the power of the enemy?
Jesus did many things when He walked this earth. We have promises of what He will do as history unfolds and as He returns. Not a single one of these pictures of Jesus is wrong, but if you only focus on one, then you miss out on the awesome power and majesty of the many facets of the one who is completely human and also completely God!
Christmas is rapidly approaching, and for the message of Christmas, I am forever grateful. Christmas is the celebration of the physical birth into this world of Jesus our Messiah. It is the celebration of the point in history where God stepped into His own creation as one of us. It is the celebration of the physical manifestation of the promise of salvation that humanity has waited for since Adam and Eve and the fall from grace. We celebrate the innocence that a new born baby represents. We celebrate the wonderfully good news that Jesus came into this world to give us His innocence, His righteousness, while taking our sins upon Himself.
Is it difficult for you to picture the innocent baby and the suffering servant as the very same individual?
This Christmas, as we celebrate the birth of our Lord and Savior, we must not forget that He is no longer that baby boy in the manger. When we celebrate His miraculous entry into His creation, we must not forget His miraculous life, ministry, death, burial and resurrection. We have history to look back on, but I feel that we still have trouble grasping the fact that God stepped into His creation to be with us, to call us to Himself!
Mark Lowry's words in "Mary, Did You Know?" say it very well from Mary's perspective, and perhaps ours as well. What Jesus did turned the world, and all of eternity, upside down. The Creator of all things stepped into His creation as a child so that we could become His children. The child that Mary delivered came into this world to deliver her and all of humanity!
All that we have to do is receive the one whom God has sent and believe in His name?
Have you believed in the mighty name of Jesus?
Copyright 1998 – 2022 Dennis J. Smock
Daily Living Ministries, Inc.
https://www.dailylivingministries.org
Support Daily Living Ministries
Subscribe to daily email delivery
Visit us on facebook