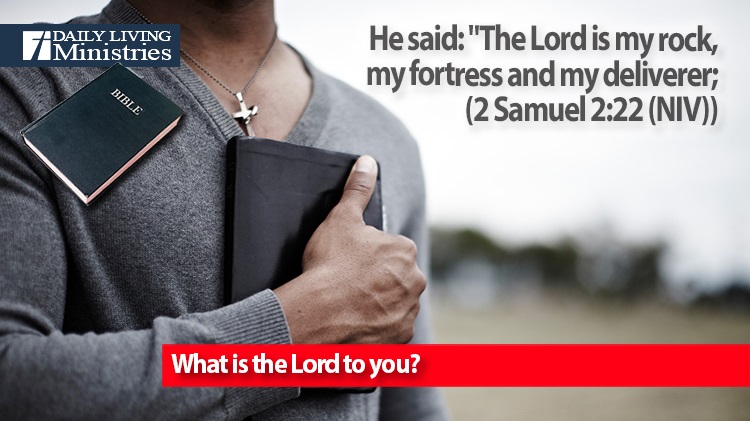 Be Still . . .
Devotionals for Daily Living ©
He said: "The Lord is my rock, my fortress and my deliverer;
(2 Samuel 2:22 (NIV))
We know that David was a very prolific writer when it came to things that lifted praise to the Lord. To put it succinctly, David gave credit where credit was due. He knew that all that he had was from the Lord. He knew exactly what the Lord meant to him and he wasn't afraid to express it.
     my God is my rock, in whom I take refuge,
     my shield and the horn of my salvation.
He is my stronghold, my refuge and my savior—
     from violent people you save me.
(2 Samuel 22:3 (NIV))
Most of us are not as prolific with words as David was. Most of us have trouble stringing together a coherent sentence that expresses our thanks, our praise, our joy, and our commitment to the One who created us. What words do you use to describe the Lord? Do you find yourself relying on the very words that David wrote? Do you find yourself at a loss for words? Do you find yourself simply groaning in your spirit because words cannot be found?
I want to challenge you to try to put into words, your own words, exactly what the Lord is to you. Is He your rock? Is He your fortress? Is He your deliverer? Is He your stronghold? What has He done for you?
Preach the word; be prepared in season and out of season; correct, rebuke and encourage—with great patience and careful instruction. For the time will come when people will not put up with sound doctrine. Instead, to suit their own desires, they will gather around them a great number of teachers to say what their itching ears want to hear.
(2 Timothy 4:2-3 (NIV))
Think about that for a moment. There is probably coming a time in your life where you will be put into a situation where you will have to give a testimony about what the Lord is to you and what He has done for you. Will you be ready to lay it on the line or will you cower in fear because you never truly stopped to think about all that the Lord has done for you? Are you prepared to give an answer?
What is the Lord to you?
Copyright 1998 – 2021 Dennis J. Smock
Daily Living Ministries, Inc.
http://www.dailylivingministries.org
Support Daily Living Ministries
Subscribe to daily email delivery
Visit us on facebook