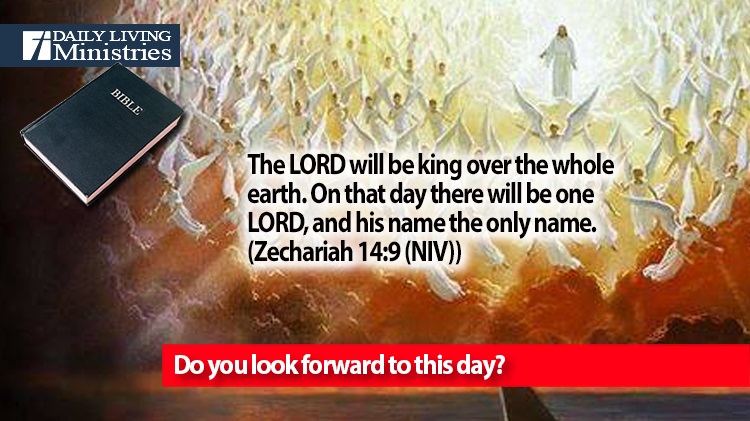 Be Still . . .
Devotionals for Daily Living ©
The LORD will be king over the whole earth. On that day there will be one LORD, and his name the only name.
(Zechariah 14:9 (NIV))
Even in the days of Zechariah, God let it be known that one day His plan would come to fruition and He would restore His order to His creation. Everything that has come about in the unveiling of history has proven that God keeps His promises. Every event in the history of the world that has had a significant impact in the events of society had been prophesied hundreds of years before it came to pass.
One of these days, the words spoken of in Zechariah will also come to pass and then we will be able to see God in a creation that He intended before man suffered the fate of the fall from grace. What a glorious day that will be. It will also be a sad day for those who do not know the grace and mercy that God has freely given through the gift of His Son, Jesus Christ. It is a shame that too many people will see this event as a sad day of punishment instead of a glorious day of salvation. We must tell all that we see of the grace that is freely theirs if they will only receive it. Only by accepting Jesus as their personal Lord and Savior will they see these events as a glorious day of salvation.
How do you see the words of Zechariah?
Do you look forward to this day?
Copyright 1998 – 2022 Dennis J. Smock
Daily Living Ministries, Inc.
http://www.dailylivingministries.org
Support Daily Living Ministries
Subscribe to daily email delivery
Visit us on facebook