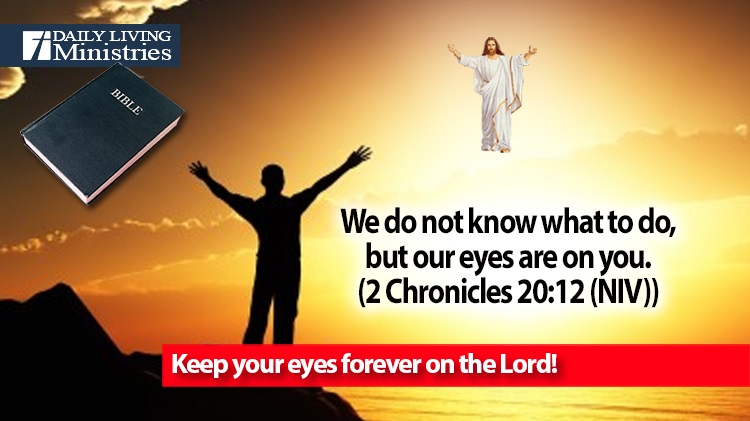 Be Still . . .
Devotionals for Daily Living ©
We do not know what to do, but our eyes are on you.
(2 Chronicles 20:12 (NIV))
Have you ever found yourself completely at a loss and backed into a proverbial corner with no idea what to do?
If you claim to be human, then I can assure you that everyone who makes that same claim has had times like this in their lives. You are not alone. It is our sinful human nature that makes us think that we can manage our own lives and our own actions. Basically, it is our pride that gets us into these types of situations. We refuse to take advise. We refuse to seek advise, and, just for the men out there, we refuse to stop and ask directions! We look only at our own limited resources and become so convinced that what we are facing is far greater than what we can handle. If you stop to think about that concept, our circumstances actually are greater than what we can handle.
But, God . . .
Two simple words that change everything!
Surrender your life to the Lord and follow His leading. He has a plan for your life. You were created for a purpose for such a time as this. Keep your eyes focused on the Lord and He will lead you. He will guide you back to the straight path that He had planned for you. He will not forsake you. He will give you a peace that passes all understanding and He will prosper you and give you a hope and a future. It all starts with a simple confession. It is as easy as ABC.
A is for admit that you are a sinner in need of a savior.
B is for believe in your heart that Jesus Christ died for your sins, was buried, and that God raised Him from the dead.
C is for call upon the name of the Lord Jesus.
No matter what circumstances you may find yourself in, give thanks at all times. When you don't know what to do, give thanks to the Lord for what He will do, and when things are going great, give thanks to the Lord for His great love and mercy. In all things, give thanks!
"Give thanks to the Lord,
     for his love endures forever."
(2 Chronicles 20:21b (NIV))
Your faith will mature to the point where you will praise Him and thank Him for what He will do before He does it!
Keep your eyes forever on the Lord!
Copyright 1998 – 2021 Dennis J. Smock
Daily Living Ministries, Inc.
http://www.dailylivingministries.org
Support Daily Living Ministries
Subscribe to daily email delivery
Visit us on facebook