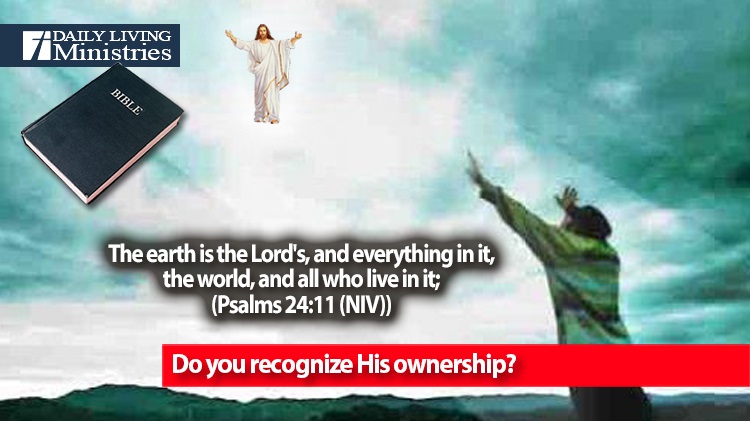 Be Still . . .
Devotionals for Daily Living ©
The earth is the Lord's, and everything in it, the world, and all who live in it;
(Psalms 24:11 (NIV))
Do you know anyone who acts like the world is theirs? Are they arrogant and self-centered? Are they always demanding things of others because they think they are better and more important than everyone else? I realize that I am not painting a very pretty picture of this type of person. They fail to realize that they are just a small part of God's creation and that all of us are equally loved by the Lord.
If you look at copyright laws, the creator of any work is in complete control of that work. They own it. They have all rights to do with that work whatever they choose to do. According to the creation account in Genesis, God is the Creator of all things and as such, He owns all things. He is Creator. He is eternal. We are like grass.
For,
"All people are like grass,
and all their glory is like the flowers of the field;
the grass withers and the flowers fall,
but the word of the Lord endures forever."
(1 Peter 1:24-25 (NIV))
Who is the Lord?
He is the Maker of heaven and earth,
the sea, and everything in them—
he remains faithful forever.
(Psalm 146:6 (NIV))
We can't even claim to own ourselves! We are filthy rags.
We can't save ourselves. We need a Savior.
Thankfully, God loves His creation. As a loving Creator, He is also a loving owner. Thankfully, God sent us a Savior.
For God so loved the world that he gave his one and only Son, that whoever believes in him shall not perish but have eternal life. For God did not send his Son into the world to condemn the world, but to save the world through him. Whoever believes in him is not condemned, but whoever does not believe stands condemned already because they have not believed in the name of God's one and only Son.
(John 3:16-18 (NIV))
When we acknowledge that we are not the center of our world and that we don't own anything, we can take the next step and rightfully relinquish ownership of our lives. We can accept the gift of grace from the One who is the true owner of all things.
Do you recognize His ownership?
Copyright 1998 – 2021 Dennis J. Smock
Daily Living Ministries, Inc.
http://www.dailylivingministries.org
Support Daily Living Ministries
Subscribe to daily email delivery
Visit us on facebook