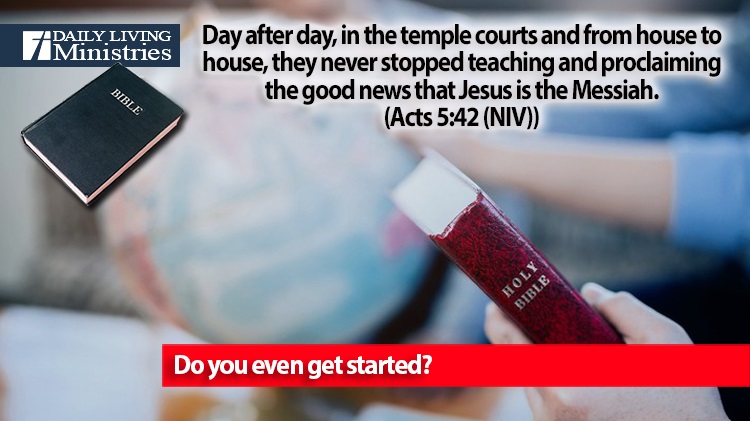 Be Still . . .
Devotionals for Daily Living ©
Day after day, in the temple courts and from house to house, they never stopped teaching and proclaiming the good news that Jesus is the Messiah.
(Acts 5:42 (NIV))
They never stopped!
Not only that, they didn't just proclaim Jesus to each other by giving their testimonies to their own group. They didn't hide themselves away behind four walls. They did it publicly. They went house to house. They had something that they wanted, that they needed to share with all who would listen. They took Jesus to the people!
They were fulfilling the command that Jesus left with His disciples.
Therefore go and make disciples of all nations, baptizing them in the name of the Father and of the Son and of the Holy Spirit, and teaching them to obey everything I have commanded you.
(Matthew 28:19-20a (NIV))
They didn't stop there, for they knew that the rest of this passage provided the power and authority to carry out what Jesus had commanded.
And surely I am with you always, to the very end of the age.
(Matthew 28:20b (NIV))
They never stopped because they fully understood that Jesus was always with them!
Have we become timid in our faith? Are we too afraid of what others will think if we proclaim Jesus to all whom we see? Have we forgotten that we have been given a command to share the Gospel and that Jesus will be with us, leading us and guiding us every step of the way?
What, then, shall we say in response to these things? If God is for us, who can be against us?
(Romans 8:31 (NIV))
If we have all of these assurances, why do so many of us fail to get to the point where we are looked upon as never stopping? With this in mind, I have one last question.
Do you even get started?
Copyright 1998 – 2023 Dennis J. Smock
Daily Living Ministries, Inc.
https://www.dailylivingministries.org
Support Daily Living Ministries
Subscribe to daily email delivery
Visit us on facebook