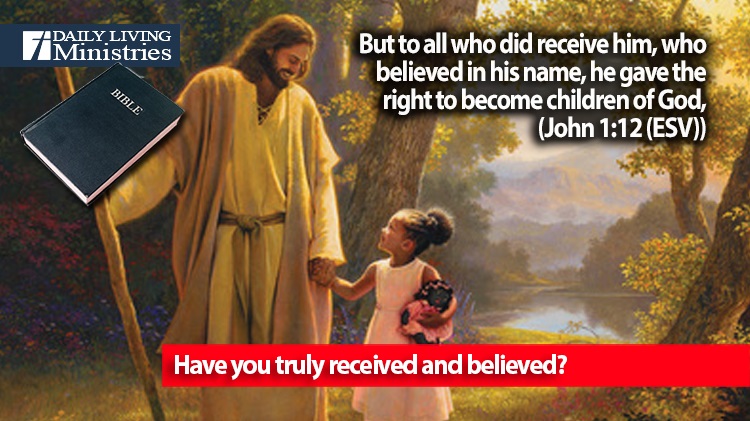 Be Still . . .
Devotionals for Daily Living ©
But to all who did receive him, who believed in his name, he gave the right to become children of God,
(John 1:12 (ESV))
Have you ever stopped to reflect on what this passage means to you?
It basically boils down to two very distinct words – Receive and believe.
When we hear the word "receive," we think of something along the lines of receiving a gift. This goes well with the concept of one definition that means to come into the possession of something. However, there are other definitions that I believe are more relevant. According to Merriam-Webster, these are also valid definitions of the word "receive."
1. To act as a receptacle or container for
2. To permit to enter
3. To accept as authoritative, true, or accurate
When you profess a faith in Jesus as your personal Lord and Savior, you open your heart and permit Him to enter because you have accepted Him to be authoritative and true to what has been foretold in God's Word. In other words, by you profession of faith in Jesus, you are doing more than simply receiving the amazing gift of grace! You are proclaiming so much more! This profession of faith also is a declaration that you believe what Paul wrote that this salvation, this amazing grace, is found only in the name of Jesus.
Salvation is found in no one else, for there is no other name under heaven given to mankind by which we must be saved."
(Acts 4:12 (NIV))
I believe that the modern church has whitewashed the power behind professing a faith in Jesus. We tend to neglect what it means to receive. We tend to forget that the idea behind receiving Jesus is the three definitions listed above. It is not a passive activity. We have made a choice and we should stand fully ready to expect that Jesus will fill us with the power of His truth. With this in mind, I have but one thing to ask you.
Have you truly received and believed?
Copyright 1998 – 2023 Dennis J. Smock
Daily Living Ministries, Inc.
https://www.dailylivingministries.org
Support Daily Living Ministries
Subscribe to daily email delivery
Visit us on facebook