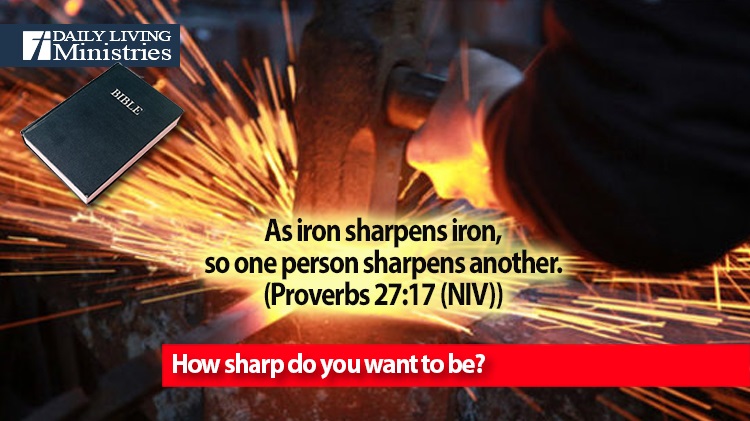 Be Still . . .
Devotionals for Daily Living ©
As iron sharpens iron,
     so one person sharpens another.
(Proverbs 27:17 (NIV))
There is an old saying that you are what you eat. I can hear your thoughts now as you ask what does this have to do with this passage. To put it concisely, who you associate with is who is being used as the sharpening tool for your life.
Who are the people that you surround yourself with?
Are they sharpening and maturing your faith or are they making you dull and immature? Are you sharpening others?
I realize that not everyone in our lives will profess a faith in Jesus. There will be family who are not believers. There will be people whom you work with who will not be believers. There will definitely be people you encounter in the public spaces of this world who are not believers. The key to these interactions is that we must realize that sometimes we are being sharpened and at other times we are being used by God to sharpen others. We must pray for discernment so that we can identify which is which. Perhaps the easiest way to address this issue is to pray that we can be consistent in our thoughts, words and actions no matter who we are around. We must pray for the strength to keep our eyes on Jesus no matter where we are and who we are with!
Can you make that claim?
We may never know how our words and actions will impact others. We may be the only one in someone's life who attempts to show them Jesus by the simple things that we say and do. We may add a little sharpness into a dull life and that glimpse of sharpness may be just the thing that makes someone want more. We should also strive to sharpen each other so that our faith, our knowledge and our understanding is continually being honed.
So then faith comes by hearing, and hearing by the word of God.
(Romans 10:17 (NKJV))
For the word of God is alive and active. Sharper than any double-edged sword, it penetrates even to dividing soul and spirit, joints and marrow; it judges the thoughts and attitudes of the heart.
(Hebrews 4:12 (NIV))
To clarify, it is our use of God's Word that sharpens us. It is our desire to learn and mature and discuss our thoughts with those who also desire to learn and mature in and through God's word.
How sharp do you want to be?
Copyright 1998 – 2021 Dennis J. Smock
Daily Living Ministries, Inc.
http://www.dailylivingministries.org
Support Daily Living Ministries
Subscribe to daily email delivery
Visit us on facebook