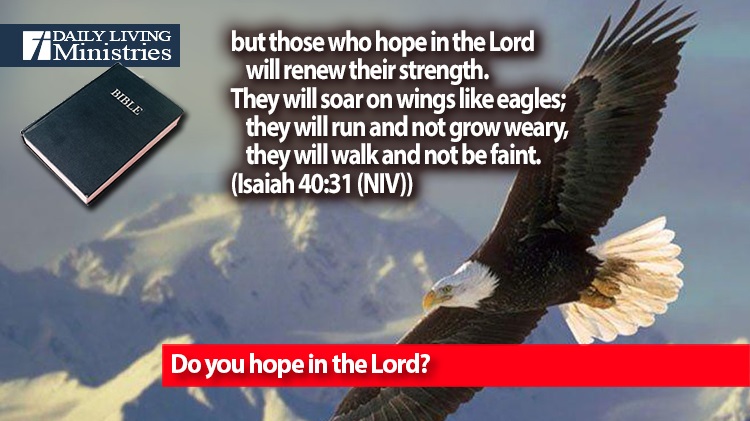 Be Still . . .
Devotionals for Daily Living ©
but those who hope in the Lord
      will renew their strength.
They will soar on wings like eagles;
      they will run and not grow weary,
      they will walk and not be faint.
(Isaiah 40:31 (NIV))
It is so easy to focus on the physical when everything that we see and experience is the physical world. Lately, everything around us seems to be wars and rumors of wars. Evil is called good and good is called evil. Shortages and inflation are beginning to be the new normal. And, many experts, both Biblical and worldly, are saying that it is just going to get worse. I recently read and wrote briefly on the rising death rate among the group that we call the millenials. They see no hope in sight and choose to end their lives. I realize that no one has probably looked at the following passage from this perspective, but we are seeing this very thing happen.
Even youths grow tired and weary,
      and young men stumble and fall;
(Isaiah 40:30 (NIV))
It is amazing what a change of perspective can do. Their only hope was in the world because that is all that they knew. They had not placed their hope in the Lord. When you place your hope in the Lord, you see things from His perspective. You see things in a whole new light and the darkness of the world is only a passing thing. Placing your hope in the Lord allows you to not be overwhelmed by the problems in this world. We still see them, but we know that with the Lord's help, we will soar on wings like eagles. We will be kept away from the eternal harm this is running rampant in the world. We will realize that the world is fleeting and that only eternity matters. Jesus gives us that hope of eternity with Him.
He will renew our strength!
He will give us power to do things in His name!
Very truly I tell you, whoever believes in me will do the works I have been doing, and they will do even greater things than these, because I am going to the Father.
(John 14:12 (NIV))
I recently heard someone talk about a concept that sounds interesting and may need to be investigated further. She stated that since the church age started with miracles and power at Pentecost, it would not surprise her to see the church age end in the same manner. If you stop to think about that concept, isn't that what the Rapture would be?
I know one thing for certain.
No Jesus. No hope.
Know Jesus. Know hope!
Do you hope in the Lord?
Copyright 1998 – 2022 Dennis J. Smock
Daily Living Ministries, Inc.
http://www.dailylivingministries.org
Support Daily Living Ministries
Subscribe to daily email delivery
Visit us on facebook