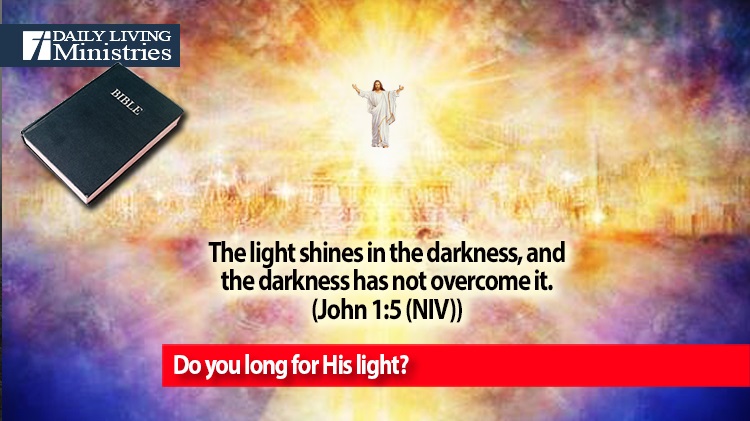 Be Still . . .
Devotionals for Daily Living ©
The light shines in the darkness, and the darkness has not overcome it.
(John 1:5 (NIV))
The world is a dark place. Sin and evil are the new normal, but only for a little while. We know the end of the story. We are just living in the times before the end comes. These are the times when evil increases just as we are told in the parable of the wheat and the tares. While we wait, we have a light that we can shine in our small corners of the world. If you profess a faith in Jesus as your personal Lord and Savior, then you have a light that will penetrate the darkness. Even the smallest flame from a candle chases the darkness away.
How is your flame?
I know that it is nothing in comparison to what the Lord will bring when He returns, but we are called to share His light for others to see. We are to use the light that is inside of us to allow others to see their way to Him. The more that we share that light, the more people we will have searching the skies for His return.
Do you search the skies for His return?
We have been given a promise just as the disciples were given a promise. He will return!
"Men of Galilee," they said, "why do you stand here looking into the sky? This same Jesus, who has been taken from you into heaven, will come back in the same way you have seen him go into heaven."
(Acts 1:11 (NIV))
Do you long for His return?
Do you long to see His light?
Do you long to live in His light for all eternity?
His light will defeat the darkness. His light has already overcome sin and death. His light will return to finish everything just as was promised. When He returns, there will be no darkness.
Do you long for His light?
Copyright 1998 – 2022 Dennis J. Smock
Daily Living Ministries, Inc.
http://www.dailylivingministries.org
Support Daily Living Ministries
Subscribe to daily email delivery
Visit us on facebook