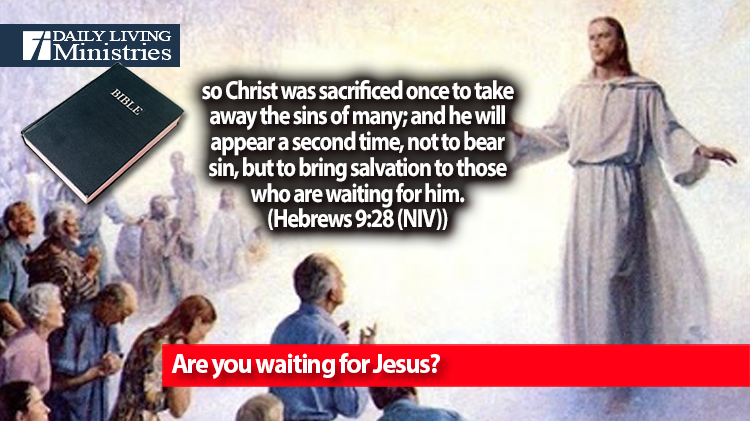 Be Still . . .
Devotionals for Daily Living ©
so Christ was sacrificed once to take away the sins of many; and he will appear a second time, not to bear sin, but to bring salvation to those who are waiting for him.
(Hebrews 9:28 (NIV))
As believers, we are fully aware of the first part of this passage. As part of the Great Commission, we should be able to communicate this truth to anyone. In fact, someone has simplified this to the point where anyone can witness to anybody at any time if you can simply remember ABC.
A is for admit that you are a sinner in need of a savior.
B is for believe in your heart that Jesus Christ died for your sins, was buried, and that God raised Him from the dead.
C is for call upon the name of the Lord Jesus.
Sadly, what far too many people have trouble with is the fact that Jesus will come again. Some proclaim that it has has been over two thousand years, so they mockingly ask where is He? Others refuse to believe beyond the physical and claim that no one can return from the dead. I have even known some people who profess a faith in Jesus and claim that He is not returning. They claim that this was simply a metaphor for when we die and are taken to heaven. Still others only think of Jesus for an hour on Sunday and never truly give any consideration to what faith truly means. Are you among those who live for this world and forget about Jesus coming again? In other words, do you profess a faith and live your life as if you don't want Jesus to return?
Think about that last question!
Do you love the world so much that you aren't looking for Jesus, or are you waiting patently for His second appearance even when the world claims that He isn't coming soon if He comes at all?
But do not forget this one thing, dear friends: With the Lord a day is like a thousand years, and a thousand years are like a day. The Lord is not slow in keeping his promise, as some understand slowness. Instead he is patient with you, not wanting anyone to perish, but everyone to come to repentance.
(2 Peter 3:8-9 (NIV))
When Jesus does return to bring salvation to those who are waiting for Him, will you be on the receiving end or will you be left behind?
Are you waiting for Jesus?
Copyright 1998 – 2021 Dennis J. Smock
Daily Living Ministries, Inc.
http://www.dailylivingministries.org
Support Daily Living Ministries
Subscribe to daily email delivery
Visit us on facebook