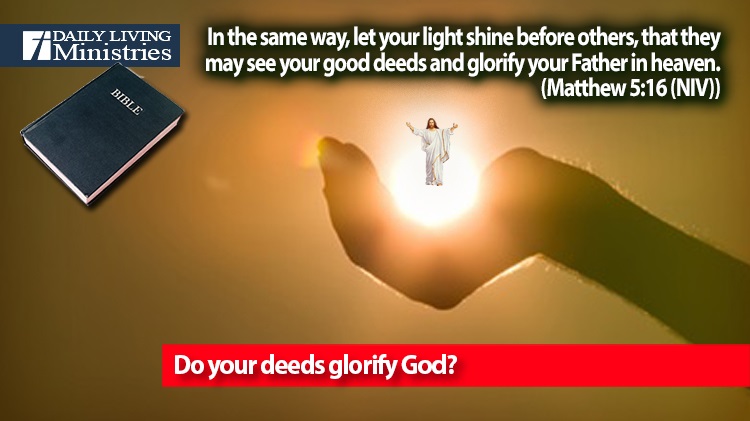 Be Still . . .
Devotionals for Daily Living ©
In the same way, let your light shine before others, that they may see your good deeds and glorify your Father in heaven.
(Matthew 5:16 (NIV))
How good are you at letting your light shine?
Let me rephrase that question and ask it like this.
Do others see Jesus in everything that you do?
Several years ago there was a big movement with WWJD – What Would Jesus Do? You would see wristbands and stickers and many other things with this prominently displayed. This did quite a lot in regard to reminding people how to act if they wanted to truly follow Jesus. I also think that this was also used by the enemy to trick believers into being submissive out of "love" when they saw something that was not right in the eyes of God. My favorite thing that I saw that someone created to clarify this statement reminded people that at one point Jesus fashioned a whip and turned over the tables of the money changers.
Does this sound like the type of "love" that the enemy has tricked us into believing about Jesus?
Jesus was compassionate toward the people lost in their sin as He encountered them, but He was also extremely passionate about the Father. He would never do anything that was contrary to what the Father instructed. He would never do anything contrary to God's Word. His compassion for people, for us, was never to affirm them in their sin. It was to call them home to a loving Father. He was calling sinners to repent and return to the Father through Him!
With that in mind, I venture to say that there will be times when we are called to let our light shine and it will actually mean that we will be filled with the righteous passion for the Father and for His Word that made Jesus turn over tables.
Are you willing to take a stand for what is right in the eyes of the Father? Are you willing to make a public profession that you do not agree with the sinful practices that are being done? Sometimes shining your light means that you are to go into battle against the darkness and not simply try to make friends with it.
If Jesus said that only the Father is good, then in order to do good deeds, we must point people to the only one who is good. Our deeds must point to Jesus as the only way to the Father! That is how we glorify God.
Do your deeds glorify God?
Copyright 1998 – 2023 Dennis J. Smock
Daily Living Ministries, Inc.
https://www.dailylivingministries.org
Support Daily Living Ministries
Subscribe to daily email delivery
Visit us on facebook