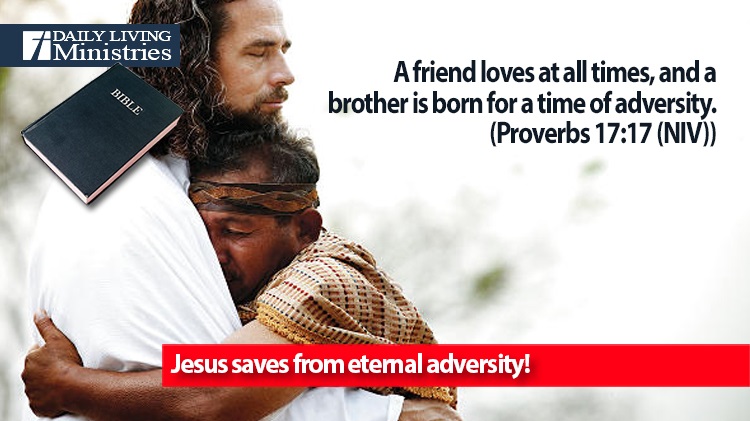 Be Still . . .
Devotionals for Daily Living ©
A friend loves at all times, and a brother is born for a time of adversity.
(Proverbs 17:17 (NIV))
How do you describe the bond between friends? How do you describe the bond between brothers? How are they the same and how are they different? Which one do you feel is stronger?
I realize that I just asked a bunch of questions that require more than a yes or no answer. They require thought, honesty and time to truly answer.
How did you answer?
Do you still have any of the same friends that you had when you were a child? How about the friends you had from when you were in high school? If you have lived very long at all, you know that friends come and go. People move into our lives for a season and then they move on. Even the closest of friends rarely stay that way for a whole lifetime. People find themselves on different paths and soon even the best of friends find that they are only a distant memory.
How many of you have a brother or a sister? You know that the bonds of family are not as easily put away and dismissed as the bonds of friendship. Once a brother, always a brother. You may not be the best of friends, but you know that if it ever came down to needing someone to turn to, to pick you up in times of adversity, that brother, that sister, that family will be there for you even when all of your friends have abandoned you.
   but there is a friend who sticks closer than a brother.
(Proverbs 18:24b (NIV))
Closer than a brother?
Closer than your family?
There is someone who will never abandon you even in the midst of your worst moments. When friends leave you and family says that they don't know what else to do, Jesus is waiting there for you! Have you accepted His friendship? It is as easy as ABC.
A is for admit that you are a sinner in need of a savior.
B is for believe in your heart that Jesus Christ died for your sins, was buried, and that God raised Him from the dead.
C is for call upon the name of the Lord Jesus.
We don't know what tomorrow may hold, but we do know who holds tomorrow. Put your trust in Jesus as your personal Lord and Savior before it is too late!
Jesus saves from eternal adversity!
Copyright 1998 – 2021 Dennis J. Smock
Daily Living Ministries, Inc.
http://www.dailylivingministries.org
Support Daily Living Ministries
Subscribe to daily email delivery
Visit us on facebook