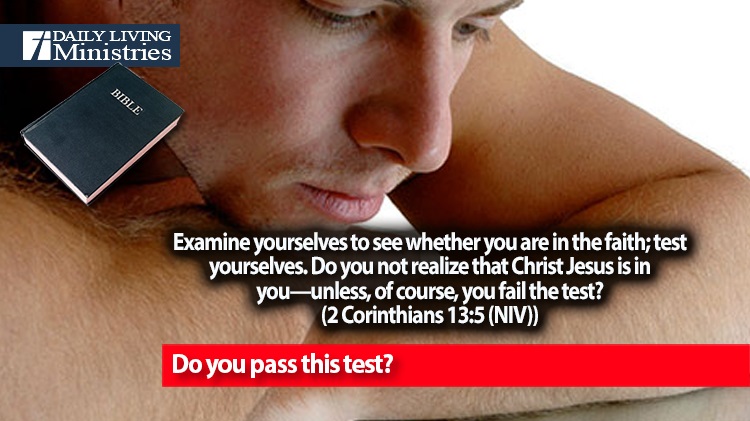 Be Still . . .
Devotionals for Daily Living ©
Examine yourselves to see whether you are in the faith; test yourselves. Do you not realize that Christ Jesus is in you—unless, of course, you fail the test?
(2 Corinthians 13:5 (NIV))
How did you do at taking tests when you were in school?
Personally, I did good with tests but I hated the prep work needed for the tests. You could spend days reviewing and studying for a test and in less than an hour it would be over. These type of tests were designed to see how well you are able to learn and apply the material in a given subject. To be completely honest with you, the material that I would spend days reviewing is all trivial when you consider the test that each of us must face. The most important test that you will ever take has eternal consequences. It is a test of your faith that is administered by you on you every single day of your life! In essence, this is the prep work for the final exam when each of us stand before God when we hope to hear these words.
"His master replied, 'Well done, good and faithful servant! You have been faithful with a few things; I will put you in charge of many things. Come and share your master's happiness!'
(Matthew 25:21 (NIV))
Just how do you test to see whether you are in the faith?
It starts with admitting that you are a sinner in need of a Savior. It starts with professing a faith in Jesus as your personal Lord and Savior. It starts with surrendering your life to the authority and Lordship of Jesus. It starts with deciding to follow Jesus in all that you do.
To put it simply, it all starts with Jesus!
Each day I make it a priority to spend time in God's Word. I look forward to my quiet time where I can cease my worldly striving and simply be still in His presence. I reflect on the meaning of the words and the lessons that the Lord is conveying. I look inward to ask myself if I am doing what I need to do with respect to the Scripture. That last aspect is of utmost importance, for if you only read the words and don't apply them to your life, if you don't learn and mature from these words, then you are only fooling yourself. This is how you examine yourself. You read and pray for insight and wisdom and then reflect and pray for maturity with respect to applying this to become more like Jesus.
I think I just stated the ultimate way to examine yourself to see whether you are in the faith. Do you desire to be more like Jesus in all that you do?
Do you pass this test?
Copyright 1998 – 2021 Dennis J. Smock
Daily Living Ministries, Inc.
http://www.dailylivingministries.org
Support Daily Living Ministries
Subscribe to daily email delivery
Visit us on facebook