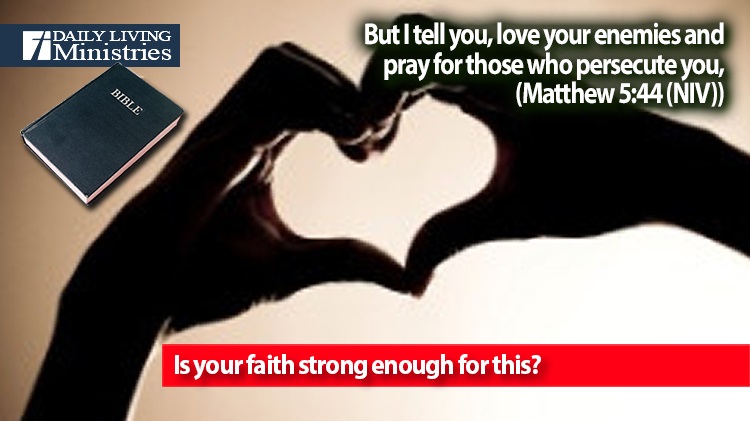 Be Still . . .
Devotionals for Daily Living ©
But I tell you, love your enemies and pray for those who persecute you,
(Matthew 5:44 (NIV))
This goes against everything that our sinful human nature desires!
We instinctively only love those who love us in return. We only want to pray for those whom we love, yet, we are called to break with our sinful human nature and do what we don't desire to do.
Have you ever stopped to reflect on why we are called to love our enemies and to pray for those who persecute us? Perhaps the answer is so simple that we don't want to see it.
For God so loved the world that he gave his one and only Son, that whoever believes in him shall not perish but have eternal life.
(John 3:16 (NIV))
If you have come to the realization that our enemies are part of the world that God loves, then you begin to understand why we are called to love our enemies. God loves them just as He loves you and I. In fact, the only difference in God's eyes are whether they have accepted the gift of grace freely given through the cross. The cross is the ultimate example of love.
But God demonstrates his own love for us in this: While we were still sinners, Christ died for us.
(Romans 5:8 (NIV))
If you stop to consider that you were once an enemy of God, then you realize that God showed you love when you were His enemy. As the Body of Christ, we are called to do the very same thing. We are called to show love to those who are our enemies, for it is through love and prayer that an enemy is lost and a friend is won. This takes a faith that goes far beyond what our sinful human nature can comprehend. It takes a faith firmly grounded in God's word and in His promises. It takes a faith strong enough to realize that through God's love anything is possible, even turning an enemy into a brother or sister in Christ! Do you possess a faith strong enough to surrender to God's Will as He calls you to embrace your enemies with love?
Today's society is uncertain. Evil is called good and good is called evil. We don't know what tomorrow will bring, but we do know one thing – Jesus will come again! When He walked the earth, He called people to repent. He called them to this action out of love. If you have professed a faith in Jesus as your personal Lord and Savior, then you have shown a faith strong enough to accept that gift. Now, we are called to show a faith strong enough to share that gift even with our enemies.
Is your faith strong enough for this?
Copyright 1998 – 2023 Dennis J. Smock
Daily Living Ministries, Inc.
https://www.dailylivingministries.org
Support Daily Living Ministries
Subscribe to daily email delivery
Visit us on facebook