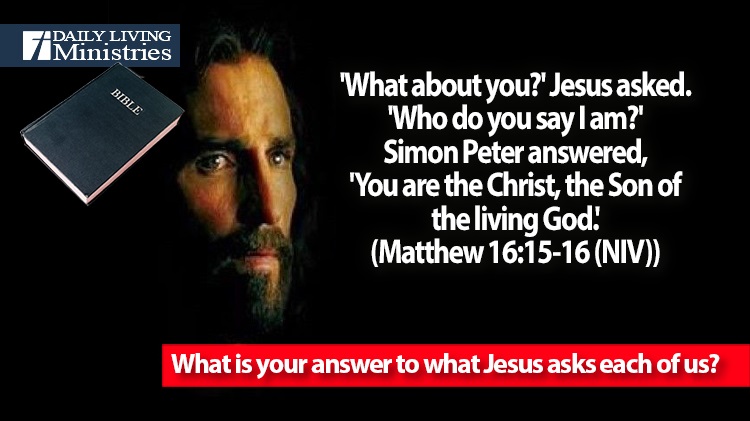 Be Still . . .
Devotionals for Daily Living ©
'What about you?' Jesus asked. 'Who do you say I am?' Simon Peter answered, 'You are the Christ, the Son of the living God.'
(Matthew 16:15-16 (NIV))
This is the question that Jesus is asking each and every one of us!
Who do you say that Jesus is? Think carefully about your answer.
Some say that Jesus never existed and that the stories are fabrications of a group of people who were determined to trick people.
Some say that he was simply a good man. This is partially true. Jesus definitely was a good man, but He was much more than a mortal man. Others say that he was a prophet. This is also partially true. He did speak the words of God, but not as a man who was given these words, but as one who spoke out of the authority that comes from the words.
Search your heart. Reflect on what is written about Jesus. Consider that He is the most controversial person to ever have walked the earth. For two thousand years people have been either praising Him or denying Him. Consider what He taught. Consider His status in life as a carpenter in a country that was under foreign domination. How can a man who had no worldly claim to fame captivate the world for two thousand years? Even the men of power during His lifetime do not receive the same attention that this lowly carpenter has received.
There is something in His words that draws people who are seeking the truth. There is something in His words that offends people who are seeking their own way. There is something about Him that still draws people to Him over two thousand years after His brief ministry on this earth.
Just what is that something? That is for each and every one of us to discover. Once you discover it, you will answer as Simon Peter answered, "You are the Christ, the Son of the living God."
What is your answer to what Jesus asks each of us?
Copyright 1998 – 2021 Dennis J. Smock
Daily Living Ministries, Inc.
http://www.dailylivingministries.org
Support Daily Living Ministries
Subscribe to daily email delivery
Visit us on facebook