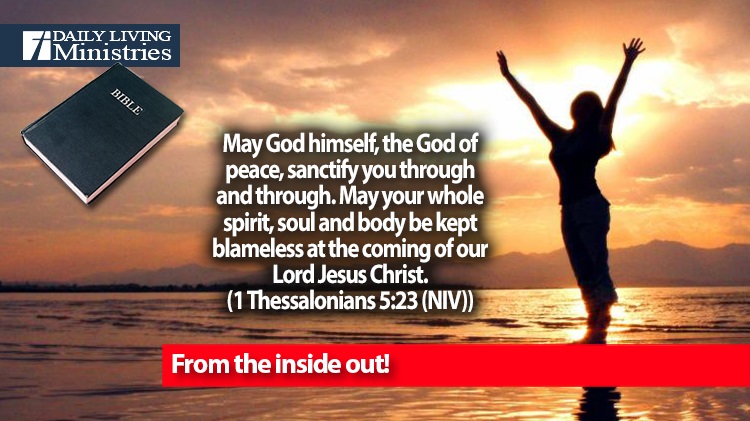 Be Still . . .
Devotionals for Daily Living ©
May God himself, the God of peace, sanctify you through and through. May your whole spirit, soul and body be kept blameless at the coming of our Lord Jesus Christ.
(1 Thessalonians 5:23 (NIV))
I had something pointed out to me today that should have been obvious, or it should have been obvious if I had simply been paying attention!
If you slow down and read this passage you will see that this passage gives us God's order of importance with respect to our lives. In essence, it explains, in more detail, the concept that outward appearances are not what make a person righteous, and because of this, God looks at the heart. The heart reflects the spirit and the desires of the heart determine a person's life. You will seek out what your heart desires.
For where your treasure is, there your heart will be also.
(Matthew 6:21 (NIV))
Our words reflect what is in our heart.
What goes into someone's mouth does not defile them, but what comes out of their mouth, that is what defiles them.
(Matthew 15:11 (NIV))
But the things that come out of a person's mouth come from the heart, and these defile them. For out of the heart come evil thoughts—murder, adultery, sexual immorality, theft, false testimony, slander.
(Matthew 15:18-19 (NIV))
God looks at the secrets within. He knows that in order to be righteous and blameless, it has to start from within us. It has to start with a desire to turn from our sin and profess a faith in Jesus as our personal Lord and Savior. Too many people go through the outward motions without ever having a change within. Their secret life is as sinful as ever, but the facade that they present to the world is one that appears to be blameless. Jesus let these people know of their sin, for they were acting righteous when what was inside was wicked.
Woe to you, teachers of the law and Pharisees, you hypocrites! You are like whitewashed tombs, which look beautiful on the outside but on the inside are full of the bones of the dead and everything unclean. In the same way, on the outside you appear to people as righteous but on the inside you are full of hypocrisy and wickedness.
(Matthew 23:27-28 (NIV))
Would Jesus call you a hypocrite? Do you desire to change? Repent and ask God to change your heart and He will change you…
From the inside out!
Copyright 1998 – 2021 Dennis J. Smock
Daily Living Ministries, Inc.
http://www.dailylivingministries.org
Support Daily Living Ministries
Subscribe to daily email delivery
Visit us on facebook