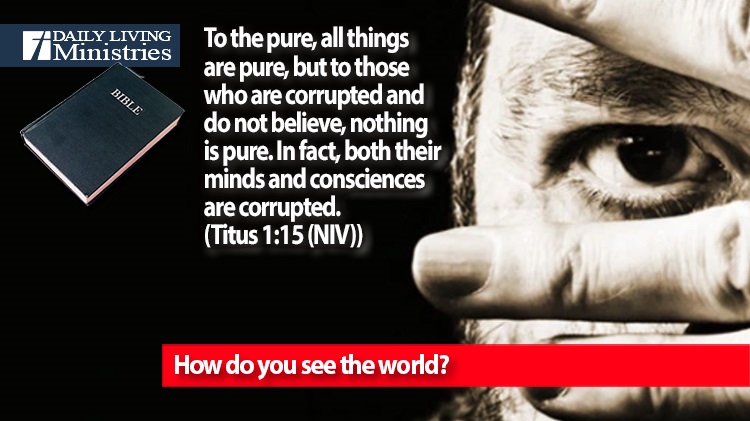 Be Still . . .
Devotionals for Daily Living ©
To the pure, all things are pure, but to those who are corrupted and do not believe, nothing is pure. In fact, both their minds and consciences are corrupted.
(Titus 1:15 (NIV))
When was the last time that you experienced something with a little child? Their innocence and wonder make everything like new. They see the wonder and amazement in everything. They see their world through innocent eyes and everything that they see is seen from their fresh perspective. They see things before the world has corrupted them and made them see the bad that this world can display. This is probably why Jesus told His disciples the following.
And he said: "Truly I tell you, unless you change and become like little children, you will never enter the kingdom of heaven.
(Matthew 18:3 (NIV))
With all that is currently happening in the world, I honestly wish that more people where like little children and pure of heart. Unfortunately, that is not the case. If you take a look at the parable of the wheat and the tares, you soon realize that the tares are the corrupt influence. Everything that they touch becomes corrupted. People who are like this seek only to corrupt and steal. They desire nothing more than to exploit whatever they can get their hands on.
Paul, in writing to Titus, clearly expresses Biblical truth. What he wrote about is also true of faith. They seem to go hand in hand. If you are pure then you have the faith to believe. If you have the faith to believe, then you have the ability to recognize purity. If you are corrupted and evil, then you only see the world for the corruption and evil that it can provide. Ironically, someone who is pure and someone who is corrupted can look at the same thing and see completely different things. They see what is in their heart.
How do you see the world?
Copyright 1998 – 2022 Dennis J. Smock
Daily Living Ministries, Inc.
https://www.dailylivingministries.org
Support Daily Living Ministries
Subscribe to daily email delivery
Visit us on facebook