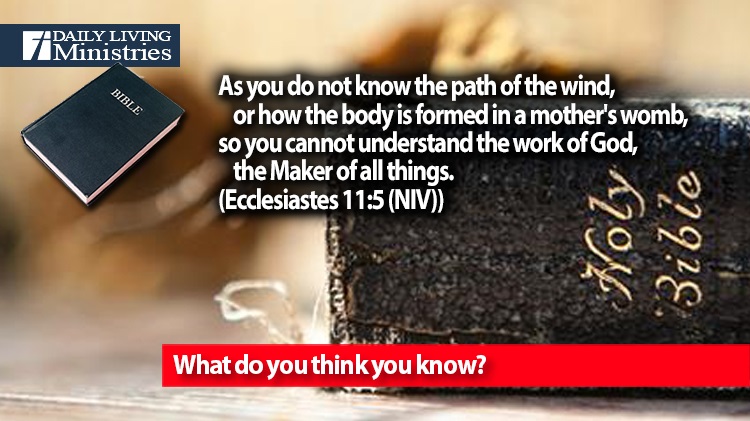 Be Still . . .
Devotionals for Daily Living ©
As you do not know the path of the wind,
     or how the body is formed in a mother's womb,
so you cannot understand the work of God,
     the Maker of all things.
(Ecclesiastes 11:5 (NIV))
Humanity has come a long way since this was written. We think that we may know how to track the path of the wind and we think we know how the body is formed in a mother's womb, but have we mistaken human knowledge for Godly wisdom? We know enough about these two subjects to be dangerous. The sad and dangerous part of this is that we have taken human knowledge, which is very limited, and used that to say that we no longer need God.
Can we trace the complete path of the winds since the beginning of creation? God can!
Can we bring together two unique strands of DNA and form still another unique individual and nurture and protect that individual as he or she grows? Can we create DNA? God can!
Even with the family genealogy softwares that are available, can we trace the lineage of each unique person who has ever lived? God can!
Human nature is so narcissistic that we think we have all the answers. We can't even answer the biggest question of all: Why do we still sin?
Regardless of what you may think you know, your knowledge is just a grain of sand in comparison to the eternal wisdom that is our God.
What do you think you know?
Copyright 1998 – 2022 Dennis J. Smock
Daily Living Ministries, Inc.
http://www.dailylivingministries.org
Support Daily Living Ministries
Subscribe to daily email delivery
Visit us on facebook