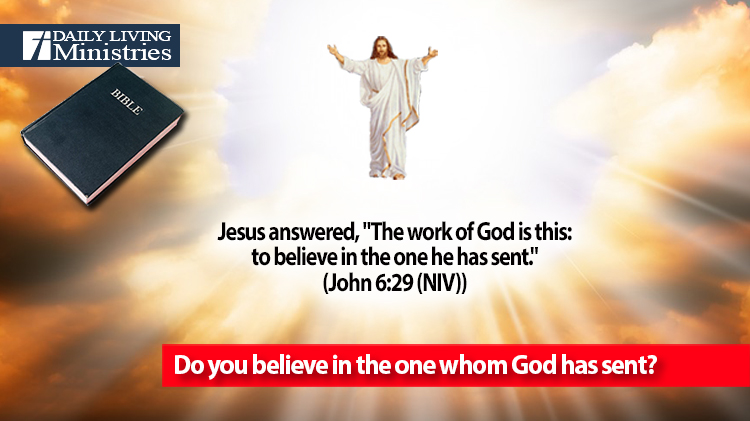 Be Still . . .
Devotionals for Daily Living ©
Jesus answered, "The work of God is this: to believe in the one he has sent."
(John 6:29 (NIV))
What do you think of this passage?
Today we read this passage as a standalone verse and realize that Jesus is telling us to believe in Him. However, we must not take things completely as a standalone verse. We must know the context of why something was said, for it is very easy to take things out of context and twist the meaning. In this particular case, this passage was the answer that Jesus gave to a question that was asked of him.
Then they asked him, "What must we do to do the works God requires?"
(John 6:28 (NIV))
When this was recorded, the society was very tradition oriented. They had the Law, the Prophets, and the feasts that they all knew by heart. In their minds, they were doing the works of God, but they failed to realize that these were all outward expressions of what should have come from their hearts. They felt that they had been doing the works that God requires, after all, God had chosen their ancestors as His people. They had become prideful. They thought that they had it all, yet Jesus told them that what they really needed to do was to believe in Him.
What if you walked into your church and found someone preaching that all of the things that you are doing because of tradition are all wrong and that all you must do is believe in the one that God has sent?
Would you be able to separate your man-made traditions from the true worship of Jesus?
Think about that!
What if the church is outlawed and you must not meet in public?
What if your church can no longer have the committees that you belong to?
What if your church can no longer have the social events that you like to go to?
What if there is a global pandemic that shuts down all church activities? Oh, wait! Been there! Done that! But what do you do if it happens again, or worse, if it happens and is permanent?
If you strip away all of the external things that we do as the church, would we still be the church? Would we still realize that everything that we do is because we believe in the one that God has sent? Would we still be confident in our faith to say that Jesus is Lord of all?
Now faith is confidence in what we hope for and assurance about what we do not see.
(Hebrews 11:1 (NIV))
Is you faith strong enough to believe even if all of the things that we do as part of the church are no longer legal? Would we be able to stand firm in our faith like the early church did? Would we be willing to face our "lions" instead of denying Jesus? It takes a strong faith to hold fast to Jesus when all around you is trying to force you to stop. It takes a strong belief in the one whom God has sent.
Do you believe in the one whom God has sent?
Copyright 1998 – 2022 Dennis J. Smock
Daily Living Ministries, Inc.
https://www.dailylivingministries.org
Support Daily Living Ministries
Subscribe to daily email delivery
Visit us on facebook