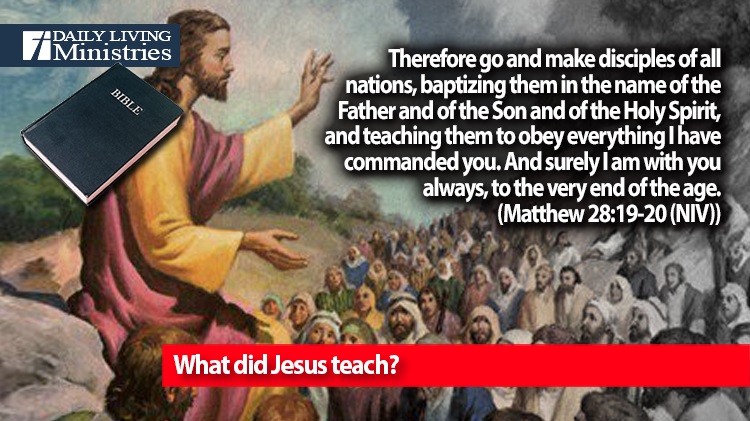 Be Still . . .
Devotionals for Daily Living ©
Therefore go and make disciples of all nations, baptizing them in the name of the Father and of the Son and of the Holy Spirit, and teaching them to obey everything I have commanded you. And surely I am with you always, to the very end of the age.
(Matthew 28:19-20 (NIV))
When Jesus walked the earth, did He spend His time forming social justice rallies? Did He spend His time plotting the overthrow of the Romans? Did He spend His time organizing food pantries? Did He spend His time organizing environmental cleanups?
No!
He spent His time doing something far more important! In His own words, He told us exactly why He came and what He was doing.
For the Son of Man came to seek and to save the lost.
(Luke 19:10 (NIV))
He was fulfilling the task set before Him by His Father.
For God so loved the world that he gave his one and only Son, that whoever believes in him shall not perish but have eternal life. For God did not send his Son into the world to condemn the world, but to save the world through him. Whoever believes in him is not condemned, but whoever does not believe stands condemned already because they have not believed in the name of God's one and only Son.
(John 3:16-18 (NIV))
He was calling people to repent and to believe in Him. He was offering redemption and mercy that allows people to have eternal life. We are told to go and make disciples of all nations. Are we doing that? Are we reaching out to the lost with the love of Jesus and offering them the greatest gift of all?
Very truly I tell you, whoever believes in me will do the works I have been doing, and they will do even greater things than these, because I am going to the Father.
(John 14:12 (NIV))
Are we doing what Jesus did? Are we seeking the lost? Have we become too afraid of the consequences of sharing the Gospel? Think about that question in relation to what Jesus told us.
"Brother will betray brother to death, and a father his child; children will rebel against their parents and have them put to death. You will be hated by everyone because of me, but the one who stands firm to the end will be saved.
(Matthew 10:21-22 (NIV))
Have we, the modern church, watered down the teachings of Jesus to the point where we no longer know what He taught?
With this in mind, I have but one more question to ask.
What did Jesus teach?
Copyright 1998 – 2022 Dennis J. Smock
Daily Living Ministries, Inc.
https://www.dailylivingministries.org
Support Daily Living Ministries
Subscribe to daily email delivery
Visit us on facebook