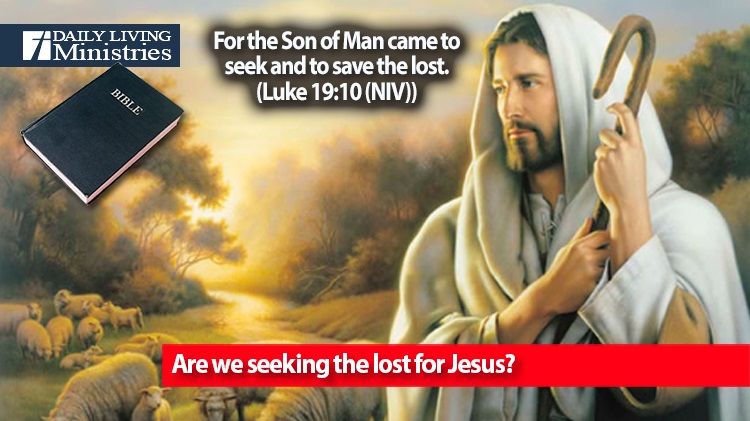 Be Still . . .
Devotionals for Daily Living ©
For the Son of Man came to seek and to save the lost.
(Luke 19:10 (NIV))
What is your understanding of why Jesus came into this world?
His primary purpose was to bring restoration between God and a sinful, fallen humanity by offering salvation to anyone who would simply believe. This singular task was and still is intended to bring people back to the Father after the enemy deceived us in the Garden of Eden. When humanity allowed sin into the world, we lost the ability to be in relationship with the Father, for He is perfect and cannot associate with sin. Jesus came to offer humanity a way out of our sinful nature so that we can be in relationship once again with the Father. All of the problems that humanity faces are a direct result of our sinful, fallen nature. Poverty, greed, lust, and everything else are simply symptoms of the root problem and that problem is sin. Jesus didn't come into the world to deal with the symptoms. He came to deal with the cause of all of the symptoms. He did not come into the world to be a social justice warrior, He came to destroy the root cause of social injustice. He did not come into the world to redistribute wealth. He came into the world to destroy the enemy and to turn people back to loving God instead of money.
Jesus came into this world to destroy the power of sin! He came to call people to a relationship with the Father through Himself. He came to redeem humanity for a loving Father.
Very truly I tell you, whoever believes in me will do the works I have been doing, and they will do even greater things than these, because I am going to the Father.
(John 14:12 (NIV))
If Jesus came to seek and to save the lost, and we are called to do the works that He was doing, are we fulfilling this calling? He even left instructions for this task with His disciples.
Therefore go and make disciples of all nations, baptizing them in the name of the Father and of the Son and of the Holy Spirit, and teaching them to obey everything I have commanded you. And surely I am with you always, to the very end of the age.
(Matthew 28:19-20 (NIV))
If Jesus told His disciples to go and make disciples of all nations, this is a self-perpetuating assignment. As disciples bring more people to Jesus, these new disciples are given the same task as those who discipled them. In essence, our primary task is the same as what Jesus proclaimed of Himself. We are to seek and to save the lost by showing them Jesus. We are to do what Jesus did!
Are we seeking the lost for Jesus?
Copyright 1998 – 2021 Dennis J. Smock
Daily Living Ministries, Inc.
http://www.dailylivingministries.org
Support Daily Living Ministries
Subscribe to daily email delivery
Visit us on facebook