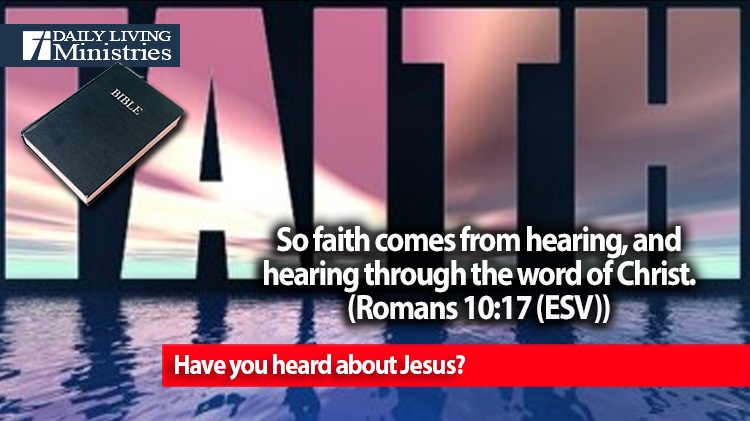 Be Still . . .
Devotionals for Daily Living ©
So faith comes from hearing, and hearing through the word of Christ.
(Romans 10:17 (ESV))
With all that is going on in the world right now, how is your hearing?
Do you understand the meaning behind what you are hearing?
Do you look upon all of these events as though the enemy is winning, or do you see them as God is allowing humanity to get exactly what they want?
We know that God has a plan, and He has been working His plan ever since the fall from grace in the Garden of Eden. Adam and Eve listened to the wrong voice and all of humanity has paid the price since that fateful day. So, God, in His infinite wisdom, sent His Son.
For God so loved the world that he gave his one and only Son, that whoever believes in him shall not perish but have eternal life. For God did not send his Son into the world to condemn the world, but to save the world through him. Whoever believes in him is not condemned, but whoever does not believe stands condemned already because they have not believed in the name of God's one and only Son. This is the verdict: Light has come into the world, but people loved darkness instead of light because their deeds were evil. Everyone who does evil hates the light, and will not come into the light for fear that their deeds will be exposed. But whoever lives by the truth comes into the light, so that it may be seen plainly that what they have done has been done in the sight of God.
(John 3:16-21 (NIV))
We have a choice as to what we hear, see and believe. If we focus on the world, we see chaos and desperation. We see a world searching for answers that the world simply does not have. We believe that the world is our only hope. Thankfully, we have a choice to focus on listening to that still, small voice. We have a choice to listen to and for God's promises fulfilled in and through Jesus. To put it simply, if we focus on the world, then the world is all that we will hear. If we focus on Jesus, then the world will fade away and our Lord and Savior will be all that we hear. We have all been guilty of being with people and our focus is on something else. We know that they are talking, but we don't pay any attention to them. In much the same way, if we focus on Jesus, then the world will fade away and our Lord and Savior will be all that we hear.
It is a matter of priorities!
We have a choice as to what we see, hear and believe, and what controls our lives. Joshua said it best.
But if serving the Lord seems undesirable to you, then choose for yourselves this day whom you will serve, whether the gods your ancestors served beyond the Euphrates, or the gods of the Amorites, in whose land you are living. But as for me and my household, we will serve the Lord."
(Joshua 24:15 (NIV))
We must make a choice each and every day. We must choose to reject the world. We must choose to spend time in His Word. We must choose to open our hearts to accept Jesus. We must open our eyes to see Jesus, and we must open our ears to hear Jesus. The final thing that we must do is then open our minds to obey His Word. It all starts with a willingness to hear!
Then the righteous will shine like the sun in the kingdom of their Father. Whoever has ears, let them hear.
(Matthew 13:43 (NIV))
Have you heard about Jesus?
Copyright 1998 – 2023 Dennis J. Smock
Daily Living Ministries, Inc.
https://www.dailylivingministries.org
Support Daily Living Ministries
Subscribe to daily email delivery
Visit us on facebook