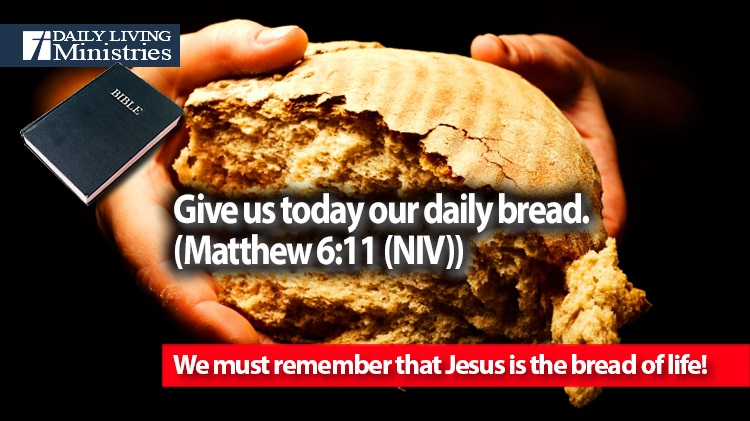 Be Still . . .
Devotionals for Daily Living ©
Give us today our daily bread.
(Matthew 6:11 (NIV))
Most people read this passage to mean that we are to look to the Lord for our daily earthly sustenance. I wholeheartedly agree, for everything is His, but there is so much more to this passage than what we acknowledge on the surface.
Just who is the bread of life? Jesus is the bread of life and His earthly birth occurred in a little town that literally translates as the house of bread. With this information, what was Jesus telling us?
This, then, is how you should pray:
'Our Father in heaven,
hallowed be your name,
your kingdom come,
your will be done,
    on earth as it is in heaven.
Give us today our daily bread.
And forgive us our debts,
    as we also have forgiven our debtors.
And lead us not into temptation,
    but deliver us from the evil one.'
(Matthew 6:9-13 (NIV))
After starting off our prayers praising God, we are to ask for our daily dose of Jesus!
Think about that in comparison to our physical sustenance. How long can you go without eating? How long can you go without drinking? What happens to your physical body when you do not eat or drink? What happens to your spiritual being if you do not partake of your daily bread that is Jesus? I venture to say that just as when you do not feed your body, your body weakens, the same is true if you do not fee your spirit. Just as we need to feed our bodies, we are to eat daily of the bread of life. We are to hunger for the satisfying feeling that we get when we truly spend time in His presence and in His Word.
We are coming up on a holiday in which we indulge in feasting as a way of giving thanks. We sit around the table with family and friends and reminisce about the blessings that we have been given. We fill our physical bodies with food. If we ate like this every single day of the year, we would be extremely overweight. There is a feast that you can partake of every single day of your life and it will fill you to overflowing not with weight but with the fruit of the Spirit.
But the fruit of the Spirit is love, joy, peace, forbearance, kindness, goodness, faithfulness, gentleness and self-control.
(Galatians 5:22-23a (NIV))
We are to feast on Jesus! We are to recognize and embrace the simple truth that He is the bread of life and that all good things come through our acceptance of Him as our personal Lord and Savior.
I believe that there is one more truth to grasp.
Jesus answered, "It is written: 'Man shall not live on bread alone, but on every word that comes from the mouth of God.'"
(Matthew 4:4 (NIV))
Even though Jesus is the bread of life and we are told that He is the Word made flesh, He tells us to not stop our faith, our hunger, with simply proclaiming His name. We are to hunger for all that God has for us. Think about that. If you go to a restaurant, they bring you bread as a starter. You eat that, but you know that something better is coming. I realize that there is nothing better than Jesus, but what He is telling us is that He is sufficient to satisfy your hunger, but you can have so much more if you simply ask. You can truly feast on all of the blessings of God. In order to do this, there is one simple truth that we must remember.
We must remember that Jesus is the bread of life!
Copyright 1998 – 2022 Dennis J. Smock
Daily Living Ministries, Inc.
https://www.dailylivingministries.org
Support Daily Living Ministries
Subscribe to daily email delivery
Visit us on facebook