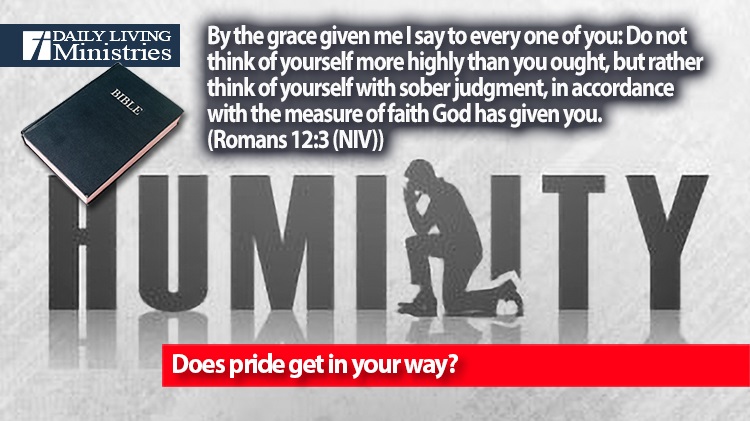 Be Still . . .
Devotionals for Daily Living ©
By the grace given me I say to every one of you: Do not think of yourself more highly than you ought, but rather think of yourself with sober judgment, in accordance with the measure of faith God has given you.
(Romans 12:3 (NIV))
It is easy to have an inflated opinion of your self-worth, especially when you listen to yourself and ignore what God is telling you. We see our own "achievements" and we know what it has taken to accomplish them. We see other people who are at different levels within what God has called them to achieve, and we judge their calling and their achievements.
What we fail to realize is that what we are currently experiencing may be the only thing that God has called us to and that what we see of others is only the tip of the iceberg. We do not know what God has in store for us or for others. We do not truly know what God has in store for us. Do you recall what you were doing ten years ago? Put yourself into that situation once again. Now take a look at your current situation with a ten year perspective. Are you doing what you thought you would be doing?
Our self-esteem, or should I say ego, has a tendency to get in our way, especially when it comes to seeing the big picture and God's plan for all of us. We tend to over emphasize our role and downplay the roles of others. This starts to sound like one of the sins that we are supposed to avoid in our life – the sin of pride.
How do you think of yourself? Do you inflate your importance or do you accept your current situation as something that is temporary and in God's hands?
Does pride get in your way?
Copyright 1998 – 2021 Dennis J. Smock
Daily Living Ministries, Inc.
http://www.dailylivingministries.org
Support Daily Living Ministries
Subscribe to daily email delivery
Visit us on facebook