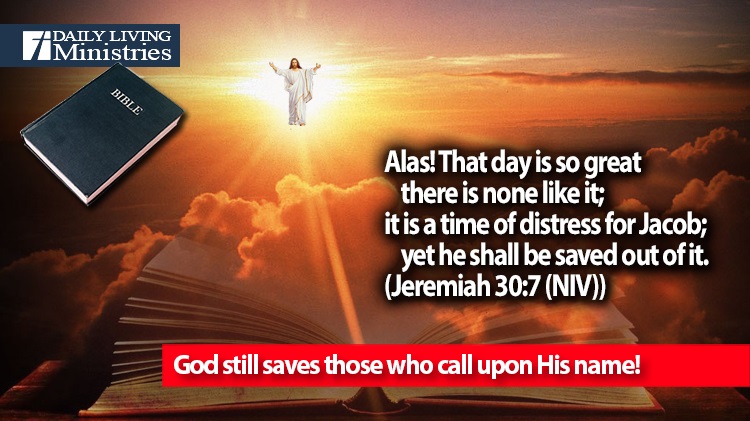 Be Still . . .
Devotionals for Daily Living ©
Alas! That day is so great
      there is none like it;
it is a time of distress for Jacob;
      yet he shall be saved out of it.
(Jeremiah 30:7 (NIV))
What is your understanding of the importance of Israel in God's timeline?
What is your understanding of the tribulation that is spoken of in Revelation and hinted at in Jeremiah and many other books?
There are many who believe that the tribulation is what is referred to in this passage. You may be more familiar with it being called the time of Jacob's trouble. Based on this concept, many believe that what is spoken of in Revelation is God's plan to redeem, to refine Israel and that the church will be gone before this happens. As God unfolds His plan, more and more will be understood. Now, we can only speculate as to what all of this means and how the Lord will unfold all of it as His plan comes to fruition. One thing is certain. God is not through with Israel. He has plans to redeem Israel for Himself. He has plans to redeem Jerusalem to Himself. With this in mind, we must be diligent in our prayers.
Pray for the peace of Jerusalem:
(Psalm 122:6a (NIV))
We must also be like the Bereans and search the scriptures for the truth as God unfolds it.
Now the Berean Jews were of more noble character than those in Thessalonica, for they received the message with great eagerness and examined the Scriptures every day to see if what Paul said was true.
(Acts 17:11 (NIV))
God gave us His word.
I have told you now before it happens, so that when it does happen you will believe.
(John 14:29 (NIV))
We must dive deeply into His word so that we are able to recognize when things happen and believe. We must also share the Gospel so that others will believe. We must lead people to Jesus before they are distressed and troubled. We must lead people to Jesus so that they may know of God's grace and mercy before it is too late.
God still saves those who call upon His name!
Copyright 1998 – 2022 Dennis J. Smock
Daily Living Ministries, Inc.
http://www.dailylivingministries.org
Support Daily Living Ministries
Subscribe to daily email delivery
Visit us on facebook