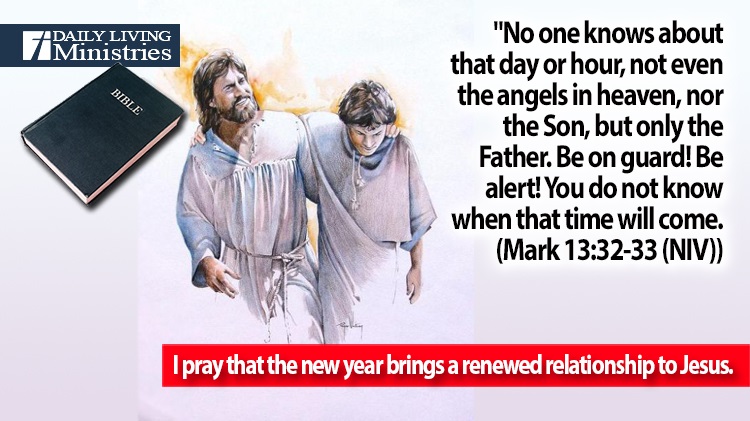 Be Still . . .
Devotionals for Daily Living ©
"No one knows about that day or hour, not even the angels in heaven, nor the Son, but only the Father. Be on guard! Be alert! You do not know when that time will come.
(Mark 13:32-33 (NIV))
I am constantly reading and studying. I said the same thing in 2013 about 2014, but 2023 looks to be a very interesting year in God's time table. I do not profess to know the day or the hour, but the season is rapidly changing.
There are things going on in this world and in the heavens that are too numerous to simply be coincidence. They are increasing in frequency and in magnitude. Even with this increase, we, as the Body of Christ, must test everything against God's Word. We must not be found guilty of falsely proclaiming things that do not match what we are told through God's Word.
None of us know what tomorrow will bring.
Pray for wisdom.
Pray for discernment.
Pray for understanding.
Pray for the strength to follow God.
What, then, shall we say in response to this? If God is for us, who can be against us? He who did not spare his own Son, but gave him up for us all–how will he not also, along with him, graciously give us all things? Who will bring any charge against those whom God has chosen? It is God who justifies. Who is he that condemns? Christ Jesus, who died–more than that, who was raised to life–is at the right hand of God and is also interceding for us. 35 Who shall separate us from the love of Christ? Shall trouble or hardship or persecution or famine or nakedness or danger or sword? As it is written:
     "For your sake we face death all day long;
        we are considered as sheep to be slaughtered."
No, in all these things we are more than conquerors through him who loved us. For I am convinced that neither death nor life, neither angels nor demons, neither the present nor the future, nor any powers, neither height nor depth, nor anything else in all creation, will be able to separate us from the love of God that is in Christ Jesus our Lord.
(Romans 8:31-39 (NIV))
I pray that the new year brings a renewed relationship to Jesus.
Copyright 1998 – 2022 Dennis J. Smock
Daily Living Ministries, Inc.
https://www.dailylivingministries.org
Support Daily Living Ministries
Subscribe to daily email delivery
Visit us on facebook