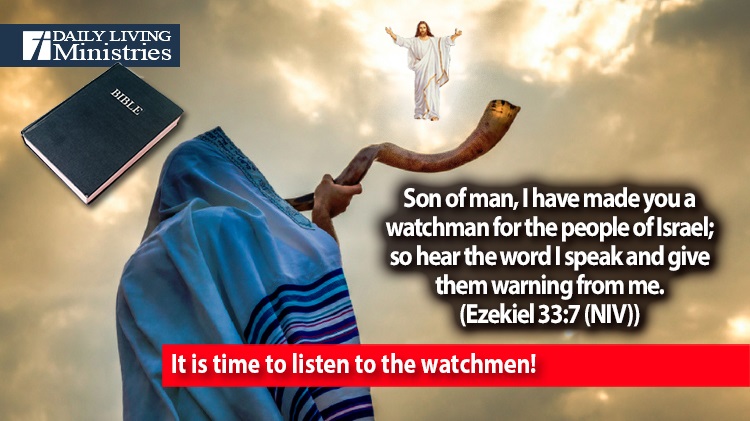 Be Still . . .
Devotionals for Daily Living ©
Son of man, I have made you a watchman for the people of Israel; so hear the word I speak and give them warning from me.
(Ezekiel 33:7 (NIV))
Do you feel safe and secure in this world?
In the past, people used to build fortified walls around the perimeter of their cities in order to keep enemies out. They used to lock the gates in order to make it difficult to gain access into the city. They used to post people on the walls as watchmen to keep an eye on the surroundings and sound the alarm if an enemy came to break down the gates. In essence, these watchmen were to keep an eye out for anything that was out of the ordinary that could bring harm and destruction to their homes. They were to sound the alarm if any threat came their way.
Today, we no longer keep our cities behind walls, but we still have need for watchmen. In today's world, the watchmen employ many more tools but they are still supposed to sound the alarm if an enemy comes near.
As members of the Body of Christ, we are called to be watchmen and alert others to the dangers that come from the enemy. The tools that we use are God's Word and prayer. We are called to alert people to the times and the seasons as God's plans unfold. This requires that we truly know and understand God's Word and what it has to say about the times and the seasons. In my lifetime, I have seen a handful of people saying that the end is near. Typically, these people were on the fringes of society and their comments weren't based on Scripture. That no longer appears to be the case.
In the last days, God says,
      I will pour out my Spirit on all people.
Your sons and daughters will prophesy,
      your young men will see visions,
      your old men will dream dreams.
(Acts 2:17 (NIV))
You may not claim to be able to prophesy or see visions or dream dreams, but you have a spiritual awareness that something is happening. For those who have felt God's Spirit, I have seen a tremendous increase in the number of individuals who boldly profess what they have been shown. They may not agree on the doctrines and the interpretations of what they have been shown, but they are letting the Body of Christ know that there is something coming and that we are in great need to prepare.
There are many people who are boldly declaring the warnings. Are you prepared?
It is as easy as ABC.
A is for admit that you are a sinner in need of a savior.
B is for believe in your heart that Jesus Christ died for your sins, was buried, and that God raised Him from the dead.
C is for call upon the name of the Lord Jesus.
It is time to listen to the watchmen!
Copyright 1998 – 2021 Dennis J. Smock
Daily Living Ministries, Inc.
http://www.dailylivingministries.org
Support Daily Living Ministries
Subscribe to daily email delivery
Visit us on facebook