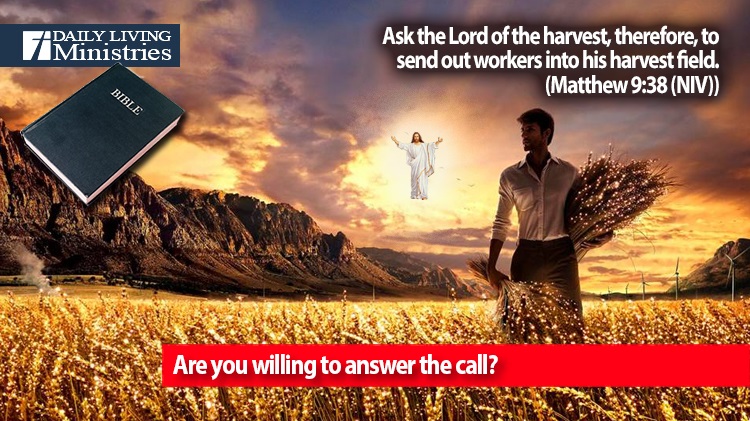 Be Still . . .
Devotionals for Daily Living ©
Ask the Lord of the harvest, therefore, to send out workers into his harvest field.
(Matthew 9:38 (NIV))
Have you truly stopped and given this passage thought?
Let me explain my question.
If you profess a faith in Jesus as your personal Lord and Savior, we have been given instructions. We have been given a job assignment that is supposed to be our primary task as believers in Jesus.
Therefore go and make disciples of all nations, baptizing them in the name of the Father and of the Son and of the Holy Spirit, and teaching them to obey everything I have commanded you. And surely I am with you always, to the very end of the age.
(Matthew 28:19-20 (NIV))
In other words, we are supposed to be working the harvest field!
If we ask the Lord of the harvest to send workers, we are asking Him to send us! The most important question that we must then ask ourselves is how will we answer. Will we be as willing to go as Isaiah was?
Then I heard the voice of the Lord saying, "Whom shall I send? And who will go for us?"
And I said, "Here am I. Send me!"
(Isaiah 6:8 (NIV))
It is said that God loves a cheerful giver. That is true for so much more than just our finances. It involves our time! God longs for us to be willing to work the harvest field. He longs for us to tell others about the amazing grace that is available to anyone who will simply repent and receive. Are you willing to give of your time so that others may know of God's great love? Are you willing to share the Gospel to a world desperately in need of salvation? Are you willing to work the harvest? Are you willing to put yourself out there in a world that is becoming more and more hateful of anything to do with the Gospel, with Jesus?
Are you willing to answer the call?
Copyright 1998 – 2023 Dennis J. Smock
Daily Living Ministries, Inc.
https://www.dailylivingministries.org
Support Daily Living Ministries
Subscribe to daily email delivery
Visit us on facebook