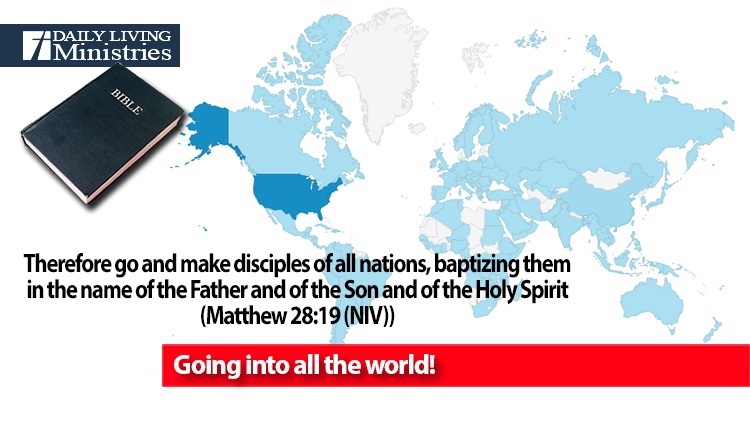 Be Still . . .
Devotionals for Daily Living ©
Therefore go and make disciples of all nations, baptizing them in the name of the Father and of the Son and of the Holy Spirit
(Matthew 28:19 (NIV))
Please bear with me while I do two things that I hate to do.
1. Toot my own horn, sorta!
In all honesty, I am tooting God's horn for what He has done through me.
2. Ask for help.
This ministry has been a passion of mine and it is not done for the money.
Unfortuantely, there are expenses.
Daily Living Ministries exists to allow people to stop and reflect on their relationship with the Lord and how to live out that relationship in this world.
This year, like the last several years, has been interesting. I am seeing more people being reached, with the latest country count showing in blue in the Google Analytics image map above. Many of these visitors are coming from countries where expressing a faith in Jesus can bring severe persecution and even death. This map only reflects the visitors to the main web site. It does not take into account these emails, the backup blog site, or the social media platforms that these devotional are shared on.
Daily Living Ministries is a small ministry that is having an impact. The budget is small, but the impact far exceeds the money spent.
However, recent events have presented an opportunity. A storm managed to take out the computer that belongs to the ministry. This computer was on a battery backup, but it still managed to make it nonfunctional. I have an automated backup system, so nothing was lost. I just don't have complete access to my 25 years of notes since I don't have a computer with enough capacity to restore the backup. I have been able to hobble together the very basics to keep writing and sending the devotionals, but nothing else.
Lord, You are faithful. Help me to be faithful. Help me to be obedient!
It is my prayer, Lord, that you draw me closer to you! I only want to know your heart.
Lord, if you don't lead me to it, I don't want to do it!
If you have been touched by Daily Living Ministries, please reply and let me know.
I also prayerfully ask that if you can contribute to assist with the unexpected expenses, please help to keep Daily Living Ministries going into all the world!
In Jesus' Holy Name,
Dennis Smock

Copyright 1998 – 2022 Dennis J. Smock
Daily Living Ministries, Inc.
https://www.dailylivingministries.org
Support Daily Living Ministries
Subscribe to daily email delivery
Visit us on facebook